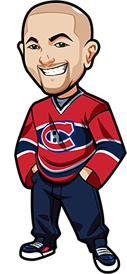 Written by Graeme on Friday, March 11th, 2022
Follow @BetNHL
Well after a nice 5-0 run this past week, we unfortunately went 0-3 yesterday.
Scott had the Knights to beat the Sabres but it wasn't to be. It was a quite close game but it took the Knights forever to tie it up, then the Sabres promptly scored again.
The Lightning vs Flames game was looking decent for the over with 4 goals in the first two periods. Unfortunately Tampa could not find their way past Markstrom. That game ended one goal shy of the over.
We had the Kings to win in regulation but the Sharks put up a fight. That was a very close game and went to OT, with the Sharks winning. Sharks took advantage of the Kings penalties twice in that one and the Kings blew a 3-1 lead. Frustrating.
Only 4 games today which is nice as I have a bit of a sore head after celebrating the incredible Glasgow Rangers results yesterday. What a team. Can't wait for us to blow it against Dundee on Sunday.
It was a heck of a day of hockey yesterday. Leafs losing yet again is just amazing.
Blue Jackets vs Wild
Blue Jackets hefty underdogs here at 2.75 odds. Wild coming off that big Red Wings game last night and may be a bit tired.
The problem here for me is that while I like the value on the Blue Jackets – I have backed them a couple of times in spots just like this. There was the 4-3 loss to the Kings in OT where they blew a big lead. There was the 3-2 loss to the Penguins where they again blew a lead.
That is just too fresh in my mind to advise them here. They are fairly solid at home and I think it's tough to have any real confidence in the Wild at the moment. Even if their offense is ticking.
I could see this one going over but the 6.5 line is too rich for my blood. Basically yeah I think there is small value on the Jackets here but due to recent plays on them I am hesitant to back them.
Penguins vs Knights
Knights come in with two road losses and their goalscoring has abandoned them. Pens have generally been playing well with mostly solid results and performances lately.
If we were to take the Penguins, it would have to be in regulation. Problem is while they have got some decent results lately, they are close ones.
It seems like the Penguins are looking to tinker with their lines as well as they aren't happy with the overall goal production.
I do think the Penguins get the win here, and the in regulation bet is probably fine but the more I look into the Pens, I don't have enough confidence. Knights ARE struggling a hell of a lot here so gotta think Pens do the job.
Islanders vs Jets
Jets so no play. They're playing well so you would have to think they get the win here. Honestly they're probably one of those teams you could coinflip bet on, and at 2.05 and above it's a favourable play.
Canucks vs Capitals
Canucks come in off the back of some high scoring games. Capitals themselves have had a few good high scoring games too. Canucks are on a nice little run and you know the Capitals love busting those type of runs.
Vancouver have their eyes on a wild card spot and they seem to be going with the offense first strategy. That can bode well when playing a team like the Capitals as it forces them to play as well.
Based on the way Vancouver have been playing, I'm happy to back Over 6 Goals incl OT/SO on this one.
A note that I see it at 1.76 or below at a lot of sportsbooks. I wouldn't bet that. Cutoff for me would be 1.80.
If you can bet at BetOnline. it is -117, or 1.87 so slightly better. Otherwise BetOnline. for 1.85 / -117.
(Odds correct as of 2022/03/11 9:41:44 AM EST but are subject to change.)
Follow @BetNHL
BetNHL.ca » Tonights Tips »