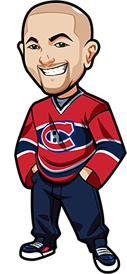 Written by Graeme on Saturday, March 11th, 2023
Follow @BetNHL
Quite the night yesterday in the NHL.
Two absolutely MASSIVE home favourites. One scrapes the win in OT, the other loses. Hilarious. That Flames offense man. Amazing to see.
It's funny as in my usual browsing yesterday of sports betting communities etc, I saw people feeling frustrated at the lack of betting options, and so they were combing stuff like Panthers & Flames in regulation just to get a bet with some value.
Like – you don't have to bet every night. If you feel that way, you legitimately have some sort of gambling problem. And if you're planning on watching the game and just feel the need to bet – I get that. But man – do fun ones instead that can last the entire game. Player shots over/under. Grand Salami over. That sort of thing. And have a separate bankroll for it.
I have a separate bankroll just for that sort of thing. If I pop into a bar tonight and the Blues vs Blue Jackets game is on and I don't have a bet on it – I'll probably chuck something on it from that bankroll. Good to have a "fun" bankroll as you can bet stupid things like exact score etc.
Now if you don't mind I have about elevently billion hockey games I need to analzye. Another night with quite a few ridiculous favourites, and unfortunately just the one play.
Bruins vs Red Wings:
Bruins coming in off that Oilers loss. Wings the Hawks win. Boston are a bit iffy on the bounce back honestly. -1.5 is below our threshold. I do think they will cover it but it's a bit close, and their bounce back performances have me shying away.
Penguins vs Flyers:
Despite the Flyers poor offensive metrics, I cannot trust this Penguins D at all. You sometimes get some amazing games between these two and I could see it just randomly going over due to that. But the Flyers offensive metrics are so piss poor it's too much of a risk.
Sabres vs Rangers:
Sabres coming off that 10-4 loss to Dallas. Three games lost on the trot now. The Rangers are still struggling hard. The metrics are a bit skewed now due to that Sabres/Stars game. Anyway nothing is really jumping out at me here.
Avalanche vs Coyotes:
Avs lost to the Kings. Coyotes strung some wins together and now they are on the road. Both teams are overperforming offensively by a fair bit. Don't feel great about the over. Avs handicap is unbettable. No bet here.
Lightning vs Blackhawks:
Don't like anything here. Tampa conceding more than they are scoring and are just a mess. Blackhawks offense isn't good but the odds are unbettable anyway.
Maple Leafs vs Oilers:
Was laughing when I saw Matthews and Marner yesterday saying they hope Jack Campbell is in net tonight. Yeah no shit! Two offenses firing it in, Oilers overperforming a bit more. Leafs defensive metrics not too bad. I just don't like the price on this one. Leafs incl OT/SO is 1.76. It's always tough to back against this Oilers offense, and I don't think 1.76 is enough for that.
Canadiens vs Devils:
Again, a bit of a silly price for the Habs. In saying that, not as bad as the Rangers one the other night. This is one where you look at it and it's like yep Devils should win. I didn't feel that way with the Rangers metrics. By the numbers, Devils should score at least 3 here. I'm not sure if the Habs can keep up though for the over.
Alas, Devils over 3.5 goals is 1.55. Unbettable. And I can't take the handicap due to the Habs keeping it close – against some good teams – lately.
Jackets vs Blues:
Jackets come in on a few days rest after that mental Penguins game. Blues got the win over the Sharks. Both teams conceding a lot but their goals scored last 10 both below 3. Both performing as expected.
Eh let's see – the Blue Jackets don't look the worst bet here. Slight underdogs. Some of their defensive metrics are a concern, but Blues conceding more, same xGA. Blues low SCGF/60, high SCGA/60.
But bleh Hutchison is projected then you look at Elvis too and it's like gah. Just so hard to back the Jackets with their goaltending. Strong lean on them though due to the Blues slightly inferior offense.
Hurricanes vs Golden Knights:
Yeah this looks fine for a Hurricanes play.
A better team by the metrics. They're underperforming offensively actually. Scoring well, goaltending is crushing it for them but even then, the xGA is huge. Knights just don't seem to have the offensive power to keep up here.
I'm almost tempted to take Canes -1.5 here. But the Knights have been playing well, and did just beat Carolina 3-2 on the 1st.
Hurricanes in Regulation
Ontario: 1.86 Odds at Bet365 (Americans: We recommend http://www.bovada.lv
Canada: 1.86 Odds at Bet365 (Americans: We recommend http://www.bovada.lv
USA: -135 Odds at Bovada
Everyone Else: 1.86 Odds at Bet365 (Americans: We recommend http://www.bovada.lv
(Odds correct as of 2023/03/11 8:43:36 AM EST but are subject to change.)
Panthers vs Jets:
Jesus. No. Just no. By the metrics, Panthers should probably win. Odds seem right on point anyway.
Islanders vs Capitals:
I mean Islanders have racked up a fair amount of wins lately, but it's not a murderer's row of opposition. And that Capitals Sharks game is still fresh in my mind. Play would have to be Islanders in regulation and don't have the confidence in that.
Kraken vs Stars:
A lot of the metrics point to the over in this one. Both teams coming in on the back of a bunch of high scoring games. Both scoring and conceding. The problem is both are overperforming offensively, and underperforming big time with the goals against.
That could all come to a crashing halt here, and every single SCG metric is below 3. That puts me way off the over here. Pity as the other metrics look great for it.
Canucks vs Senators:
Close one. Slight edge to the Sens which the sportsbooks agree with – I'd price them at about 1.76 too. No bet.
Sharks vs Wild:
The Minnesota defensive machine comes to town. Sharks should be scoring more but this probably isn't the team to do it against. Kaprizov out is a big concern though as their offense has been brutal at actually scoring, and now you take out their top scorer? Ouch.
Actually funny thing about that is watch them start lighting it up now they have to modify the setup a bit. But yeah I can't back them on just a gut feeling like that.
Kings vs Predators:
Kings hosting the Preds. Kings on a nice run. Preds coming in off that Coyotes loss. I was hoping for nice odds on the Kings, as the bookies often overvalue the Preds. But we'd have to take them in regulation and I am not seeing that.
Follow @BetNHL
BetNHL.ca » Tonights Tips »