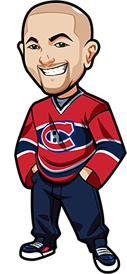 Written by Graeme on Saturday, March 12th, 2022
Follow @BetNHL
It was a 1-0 night yesterday thanks to the late show in the Capitals vs Canucks game.
The Capitals defense had stifled the Canucks throughout two periods, but Vancovuer came out swinging in the 3rd, with 3 goals to take the lead within 5 minutes. Amazing stuff. We then had a 10 minute sweat before Kuznetsov was able to put the puck in the net on a PP, and get us the win.
Penguins got the win yesterday, as did the Jackets. Both teams I liked and I wished I had been able to pull the trigger on either of them.
Busy two days ahead with 10 games today, and 10 tomorrow. Let's get right into it – sadly just the one play today despite the big slate which is Flames -1.5. I'll actually move that one to the top so you can read it:
Flames vs Wings:
The over is set at 6.5 here and the Flames at -1.5 is barely even a play with very low odds.
Calgary come in following that big win over Tampa. Wings come in after that fun as hell game against Minnesota. They are just conceding goals like crazy right now.
Flames are a good defensive team and seem motivated. They cover the handicap fairly often. Wings also lose by it a fair amount. Red Wings also have the worst success rate when playing with an empty net, while Flames have the best success rate playing against an empty net.
The odds aren't great but I do still think it's worth taking Flames -1.5 here. The data backs it up.
Canada: 1.80 Odds at Bovada.
Everyone Else: 1.76 Odds at BetOnline.
(Odds correct as of 2022/03/12 9:35:40 AM EST but are subject to change.)
Predators vs Blues:
Easy pass because well it's the Predators, and early games I am never a big fan of anyway. Always a concern if they can find the energy early on or not. I do think there is some value in the Blues here. Slight skid on the road recently but they had played a heck of a lot of road games with one trip at home. They've played twice at home in the last few days and their next few games are at home so I think they have a decent chance at the W here.
Hurricanes vs Flyers:
An earlyish game as well. If we were betting the Canes, it would have to be the handicap. You look at their recent results and it's hard to really justify that. They don't cover that a lot. Flyers come in with some decent enough performances lately too. Coming in off that big Avs game etc – I either see this going two ways. Canes coming in super strong and building off that Avs win – or big complacency. Either way, just don't see a betting opportunity here.
Devils vs Ducks:
Devils favourites here. They come in off that loss at home to the Jets. Ducks come in generally struggling.
The Devils are out of the playoffs, while the Ducks are really looking like they are out. I mean yeah they could turn it around for sure they aren't a lost cause by any means – but it's not looking great.
All of their injuries are weighing against them as well. I've no idea if Zegras, Silfverberg, or Getzlaf will be back today so I can't really call anything on this game with all those unknowns. My gut says the Ducks actually pull off the upset win here, but it is reliant on who plays and then how healthy they are.
Bruins vs Coyotes:
Bruins come in on a good little run. I believe it is only two losses in regulation since the all-star weekend. One of those teams who have come out of that more focused.
Coyotes however come in on a bloody tear with some insane results. For any value on the Bruins you'd have to bet like almost -2.5 and man against the Coyotes right now I wouldn't even bet -1.5.
The real question is if Coyotes can continue this run – particularly on the goalscoring front – or not. Bruins starting Swayman who has been solid this season but dude has let in 3 and 4 goals on his last two games.
If we look through the data from the last month, Bruins are one of the best defensive sides.
I wanted to back the Over 6 here but the defensive metrics for the Bruins are just putting me off. The Coyotes last three games with all the goals were against hte Wings, Senators and Leafs and they aren't exactly defensive juggernauts. No bet.
Senators vs Blackhawks:
After a long losing streak, the Senators have turned it around with a solid win over the Blues, and a win over the Kraken. They blew a 3 goal lead there before pulling it together to win in OT.
Blackhawks are just all over the place but their offense is producing the goals right now. Very unsure on this one and the coinflip odds seem accurate. No play.
Canadiens vs Kraken:
I will openly admit I have no idea on this one. The Habs have been performing well and they seem to have found some drive out of nowhere. Kraken come in really struggling. Have to wonder if they can build off that 3rd period against the Sens.
Those first two periods were so pitiful though. I'd love to back the over in this one but I have to wonder how motivated the Kraken will be.
I'm conflicted on this one. Looking at the data, it feels like the Habs get a good little win as the Kraken are woeful offensively. But then that rally may spur the Kraken on. I lean the over as I think we see a better performance from Seattle, and I just find it hard to back Montreal at the moment.
Stars vs Rangers:
Dallas lost in the black abyss known as Nashville. They come in here on a good little rest hoping to get going against the Rangers who are on their fourth and final game of this road trip. Could help them to get a better effort which they need having been blown out by the Blues and Wild in recent games.
The over is set at 5.5 and it's always interesting seeing what result the bookies forecast. They have Stars win 3-2 as the favourite with Rangers winning 3-2 as the next favourite.
Shesterkin was pulled the other night as the Rangers defense had just been playing brutal. That concerns me about the over as I feel like that's the type of thing to motivate them and to step up here. Heiskanen is out for the Stars due to mono of all things.
I actually think Rangers might have a decent chance here. But the Stars seem to be returning to their home form. They're still quite inconsistent.
If Rangers were 2.20 I'd probably take them. I do generally like that over but like I said Rangers might be more focused defensively this game. Maybe I'll go for something mental on my own like Rangers -1.5 at 3.65 but there's nothing I feel I can advise here.
Sharks vs Kings:
These two JUST played. I never touch these type of games in the regular season.
Oilers vs Lightning:
Edmonton come in with a confidence-boosting victory over the Washington Capitals in OT. Just what they needed. They have been pretty poor as of late and need to wake up if they want to make the playoffs. The shiny new head coach smell has worn off.
Tampa come in on the back of two losses in this Western Canada road trip. They had a big team meeting it sounds like to discuss their defensive issues. Team meetings are something I love to hear as you usually see a team bounce back after them.
Unfortunately, I have no bet in this one. Honestly, I actually think the Under 6.5 is a play, but it's hard to back that when a couple of weeks ago the two put up 8 goals. I do think Tampa go with a more defense-first type of performance here.
Follow @BetNHL
BetNHL.ca » Tonights Tips »