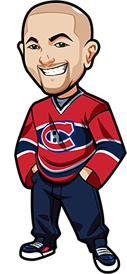 Written by Graeme on Wednesday, March 13th, 2013
Follow @BetNHL
Now that's the Leafs we all know and love! Phil Kessel steps up and puts in a great shift and the Leafs get hammered 5-2 in the process! Lot of dominating victories in the NHL with 3 separate 4-0 games(all by road teams bizarrely) and not much excitement except for that great Bruins/Penguins game. What a comeback that was by the Penguins. Bruins will be sick they let that one get away.
In tribute to yesterdays attempt by Daugavin, here's the top 10 most creative hockey shootout goals of all time – taken from TSN from a couple of years ago:
Yesterday really did have some bizarre updates – and not just in NHL. In the NBA we had two 10+ point favourites in the Spurs and the Celtics get obliterated. Weird, weird night.
Kind of a quiet night we have tonight with my Habs taking on Ottawa, the Flyers visiting the Devils and the Flames hosting the Red Wings.
Before we get to the tips I'd like to recommend Titan Bets new Mobile App where you can actually BET with your cellphone. If you want to try it out register here then hit up the mobile link in the navigation bar or just click "mobile" and get it to send you a text message. I used it a bit last night to bet in-play that the Penguins would win and it's fast and pretty slick.
Habs vs Senators Betting Tips: Highest Scoring Period – the 3rd Period:
Did you know we can bet on what the highest scoring period is going to be? Well we can do that over at Bet365 (Americans: We recommend http://www.bovada.lv and we're going to be doing just that. If all 3 periods end up tied and it goes to overtime the bet gets refunded too.
This is going to be a low scoring game, – that's for sure. The over/under is set at 5. I can see this hitting that one right on the nose. Both teams tend to open up more in the 3rd period, and Habs lately have been a very strong 3rd period team and playing their best hockey in the last 20.
Bet this at Bet365 (Americans: We recommend http://www.bovada.lv where we're getting 2.60 odds on it.
Devils vs Flyers Betting Tips: Goal Before 9:30
This is usually a bad match-up for the Flyers – Devils have handled them with ease over the previous two outings. But Brodeur is still out and that makes a big difference. Hedberg is not performing well this season and the Flyers are going to be firing on all cylinders at the start of the game, putting as much pressure on Hedberg as possible.
This opens up a nice offensive game of hockey where we should see an early goal. Get on this at http://www.bovada.lv. Pretty standard bet here.
Enjoy your night folks, and while watching the hockey be sure to check out Titan Bets new mobile app.
Follow @BetNHL
BetNHL.ca » Tonights Tips »