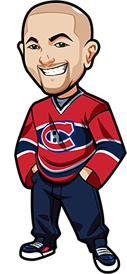 Written by Graeme on Friday, March 13th, 2020
Follow @BetNHL
Welcome to the "NHL" Tips for March 13th, 2020.
Of course there is no NHL right now. It's been postponed under further notice much like almost every other league on the planet.
I think what we'll end up doing here on BetNHL.ca is a mix of things. I don't want the place to turn into a ghost town. I'm used to writing here every day or writing out thoughts etc on hockey games and so on.
So I think over the next little while, there will be a mix of content.
Some days I will write up random entertainment style articles like "Top 10 assists this year". Other days I may do articles looking at advanced analytics "How did this particular trade affect this team and players". Other days I may just take it off.
And other days I'll gamble on the most random shit that I am not knowledgeable about just for the fun of it.
Let's do that today. I have sports going in my house 24/7 but it doesn't mean I can handicap it. Tennis for example. I watch the hell out of it but I can never really advise anything related to it. If I do bet it's just to increase my entertainment for the game. Sometimes I'll throw on a random beach volleyball game and bet on it. Again – my betting knowledge of beach volleyball? Not the best.
So for this I'm going to go with Bet365 (Americans: We recommend http://www.bovada.lv and 888 Sports who seem to have the biggest selection of "most random shit you can bet on". I'll let you know where I bet it, and if American books have it.
Feel free to post in the comments with what other random shit you're betting. For simplicity I'll track this as I go and we'll go with a 1u betting system for tracking.
I'll look for games that take place TOMORROW just so it allows everyone time to get their bets on.
Brazil Superliga Men's Volleyball Betting Tips:
This all takes place on Saturday, March 14th. Unfortunately it's a bit tricky to bet as a lot of teams are heavy favourites. Like the odds for the teams are like 1.36, 1.11, 1.22 etc. As we all know, Brazilian volleyball isn't exactly a sport for the underdogs however you can sometimes find that value.
I am taking Sesi SP to pull off the big 4.00 upset over current league leaders, Funvic. Sesi are on home beach for this one, where they play some fantastic volleyball. They've won 8 out of 11 here. Sesi beat Funvic back in January and have the ability in my opinion. They have one of the best offenses in the league and can keep toe to toe with Funvic.
Finnish Bandyliiga Betting Tips:
Bandy is of course basically hockey so I am pretty sure I can just apply my OHL/AHL etc betting system to it and be good.
The big game on saturday is between Akilles and Veitera. Akilles come in as favourites as expected with 1.72 odds. This is the big final game and so it's actually a massive game. Akilles crushed OLS and Kampparit to get here while Veitera beat WP-35 and JSP. JSP are no pushovers so that was impressive.
It's an intriguing matchup as Akilles beat Veitera in February and then drew with them 3-3 back in December in this seasons games. So despite Veitera performing so much better all season, Akilles have their number.
These two teams last played in the final in 2017 when Vietera ran out winners. They won two in a row before losing last season to a team with so many letters in their name I just cannot be arsed typing it out.
I know they're big underdogs here, but Veitera have that championship quality to them. I know I don't need to tell you guys how long the Akilles drought is – almost 30 years since they last won.
I'm taking the underdog in this one as well. Veitera to win at 2.70 odds. I know Akilles fans will yell at me for that one but call me crazy I think Veitera can pull it off.
(My favourite thing about all this is we have a huge Finnish following and there probably will be some bastard out there thinking 'What a stupid bet Akilles have no chance')
Both bets were placed at Bet365 (Americans: We recommend http://www.bovada.lv. Americans unfortunately Bandy doesn't appear to be offered anywhere however Bovada has a decent volleyball selection and will hopefully have the lines up for the big Brazilian games later today.
Or you know just phone up a mate and place a bet on the Leafs to win. They've got just as much chance to win today as they have any other night.
Follow @BetNHL
BetNHL.ca » Tonights Tips »