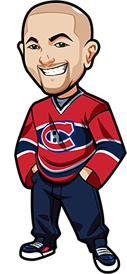 Written by Graeme on Sunday, March 13th, 2022
Follow @BetNHL
It was quite the day of hockey yesterday with some good games, and we have another busy day today. Although a lot of back to backs so we'll see how that goes.
Betting tips wise, Flames managed to get us the win. Was a bit nervous when the Flames had 30 shots to the Wings 4 and it was still only 1-0 but they kept chugging away and covered the spread.
Hope someone joined me on that Rangers -1.5 play I said I was going to go for. That was a hell of a game and was able to get 3.80 odds on that one. Happy looking back yesterday at the majority of my leans and thoughts as they generally worked out.
Funny though as I said I thought the under 6.5 was the play in Tampa vs Edmonton. While that did come in it wasn't the way I expected. I was expecting a much tighter defensive performance from Tampa and winning 3-1 or something, not the other way round! Totally off based on that one.
Let's get into tonights – like I said with a lot of B2Bs not sure how I feel about all of these but we'll see how it goes:
One play today which I'll move to the top:
Islanders vs Ducks:
These two met recently with the Islanders winning 4-0 in Anaheim.
Like I've said a lot – and earlier here – recent matchups concern me as this season we keep seeing random flip flops in spots like this.
By all accounts, the Islanders SHOULD win here. They have practically no chance of the playoffs of course. But they are playing well, getting the confidence going etc. It's also the last game before they go to Washington. I mean if they believe that they can make the playoffs that should spur them on bigger here knowing how important that upcoming Caps game could be.
Despite my feelings about recent matchups, I do think there is enough here to back Islanders in Regulation.
Canada: 1.94 Odds at Casumo
USA: -120 Odds at Bovada.
Everyone Else: 1.94 Odds at Casumo
(Odds correct as of 2022/03/13 11:15:50 AM EST but are subject to change.)
Penguins vs Hurricanes:
These two teams just played 9 days ago – and then like 2 weeks before that. I never like backing that sort of thing.
Canes come in with a bit of a spotty recent road record. They're looking for a 3-0 sweep of the Pens are on a B2B. I slight lean Pens here as I figure extra motivation etc but the bookies feel the same. Odds wise this is just unbettable for me.
Sabres vs Leafs:
Boy hockey is a funny sport, isn't it? I want to remind everyone that 10 days ago, the Buffalo Sabres went to Toronto and came away 5-1 winners. 5-1. On the road.
And now today they are a whopping 3.45 odds.
Anyway this is the heritage classic. We don't back outdoor games. Leafs were at least given an injury boost when they found out Campbell would be out for two weeks. Not going to cover anything related to this game, but looking forward to it.
Flyers vs Canadiens:
Eh – at 2.25 probably slight value on the Habs with the way both teams are playing. Habs have to be hurting after that Kraken game and the comeback before blowing it in the shootout. Nothing I like here especially with them being on B2B.
Wild vs Predators:
Oh gosh it's the Predators. No interest. For the record my betting system says it likes the Preds here. Feels there is actually more value on them than the Wild, and has them at 51% to win. Even putting my "never bet on the Preds" glasses to the side though – I think the Wild get the W. But then they have been piss poor too so I don't know – maybe there IS value on the Preds?
Blue Jackets vs Knights:
The Knights still struggling primarily due to injuries. This road trip lasts a little longer as they head to Winnipeg on Tuesday.
Jackets are 2.60+. My god the poor Jackets get no respect, do they? I just spent awhile talking about them as home underdogs in that Wild game and why I wanted to back them etc. Now they're dogs again against a struggling Knights team.
I was ready to back them but Laine and Voracek look to be out. Add in Jenner and all and yeah now the odds make more sense. No bet from me.
Blues vs Jets:
Winnipeg is a big nope for me. Blues do seem to be playing well. Honestly looking at it I'd probably back Winnipeg if Hellebuyck is in net. He's been letting in a fair amount of goals, he's going up against a team whose offense is ticking. Bizarro Winnipeg probably end up shutting em out.
Avalanche vs Flames:
Avs will look to get back on track after some real sloppy results lately. These two just played and it was a good one with the Flames getting the win. Avs without Landeskog. Flames have a brutal schedule and could be tired here. I wouldn't be surprised if the Flames pull this one off – but Avs are well rested, and I expect will up their game due to it being Calgary. So no bet.
Kings vs Panthers:
Panthers come in on a nice run although it isn't exactly the best teams in the NHL they have primarily been playing.
This is the first game on a 7 game road trip for Florida so I'd expect them to want to get off to a flyer. It's tough opposition though even if LAs last couple of weeks haven't been great.
I'd have to take Panthers in regulation and I am not sure how this one will go. Kings had a couple guys injured for that Sharks game and I know Athanasiou is out for sure. I feel like the Panthers should be able to get the W here but this is a general step up in quality from 5 of the 6 teams they have beaten on this streak.
Canucks vs Lightning:
Nothing here. Another over that is too high for me. Tampa are just a dumpster fire at the moment but they can always turn it on. Question is if it is worth rolling the dice on the Canucks at about 2.30 odds. The gamble isn't enough for me.
Follow @BetNHL
BetNHL.ca » Tonights Tips »