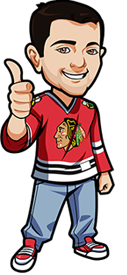 Written by Scott on Thursday, March 14th, 2013
Follow @BetNHL
Last night was a good betting night for us as we went 2-1. The Flyers vs Devils game only needed just over 2 minutes to get the scoring started and the Flames easily handled the Red Wings winning 5-2. Our only loss of the night was in the Habs Sens game. Montreal beat Ottawa in a shootout but the majority of the goals came in the 2nd period
After a slow Tuesday night with only 3 games on, tonight we have 11 games to enjoy. A few worth mentioning: Penguins at Leafs, Blackhawk vs Blue Jackets, Islanders vs Lightning and Kings vs Sharks. All of those plus many more so it promises to be an exciting night of hockey and I for one am pumped. Its hard to believe that the season is already over half over.
Its that time of year again, the Trade Deadline is approaching. This is an exciting time of year where teams may make moves based on if they will make the playoffs or not.. Teams may add a superstar player from a team not in the playoffs in hopes that he may be the missing piece needed to help them win it all. And over at [geocode id=5 they have cool Player Props where they allow you to bet on if a player will be traded before the trade deadline or not. It changes all the time so its defiantly worth a look and place a bet on if you think the players they have listed will be moved or not.
Grand Salami 58.5: Over
For those new to betting, the Grand Salami is a bet on whether or not the combined goals from all games will be over or under the number for that night. Well tonights number is 58.5 and with the players involved in the games tonight this should be a breeze. Crosby, Stamkos, Kuntiz, Carter, the Sedins the list goes on and on.
Head over to 5Dimes and bet the Grand Salami Over 58.5 and enjoy all the high scoring action that there promises to be tonight!
Islanders vs Lightning: Lightning -1.5 3.32

This bet is very worth making for a couple of reasons: the first being that although the Lighting don't have as many points as the Islanders, they have a legitimate shot at destroying them, and the second being the betting odds for Lightning -1.5 are at 3.32
No matter who was playing with odds like that I would be taking them , when the home team has those odds for a 2 goal or more win at Pinnacle Sports at 3.32 head over there and make some serious cash off the Lightning spread
Penguins vs Leafs: Leafs To Win 2.21

Another bet based strictly on value. The Penguins come into this game riding 6 game winning streak but they are without Malkin. Also the Maple Leafs are at home and have been putting together one of their best seasons in recent memory.
Pinnacle Sports has the odds for a Leafs win at 2.21. This game will be a challenge for the Leafs but they can do it. But as always be sure to check out our NHL Live Betting Odds to make sure you get the best odds available for a Leafs win.
Follow @BetNHL
BetNHL.ca » Tonights Tips »