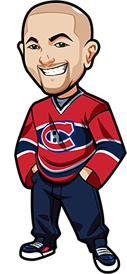 Written by Graeme on Thursday, March 14th, 2019
Follow @BetNHL
No tips last night in what was a decent night of hockey.
The Blackhawks took a huge lead against the Maple Leafs, then almost blew it. Man that was a tight one. I said it the other day but I'm really rooting for the Hawks due to the way they play so I was on the edge of my seat on that one.
The Blackhawks still have quite a few points to make up. They're sitting on 71 points with the Coyotes and Stars on 75 and 77 respectively. However I think of all the teams, they're ones that might just make it. Could just be wishful thinking on my part but of the teams above them, the Hawks seem the most resilient.
The other two games didn't really matter in the playoffs race, but the Oilers lost 6-3 to the Devils at home. This image basically sums it up: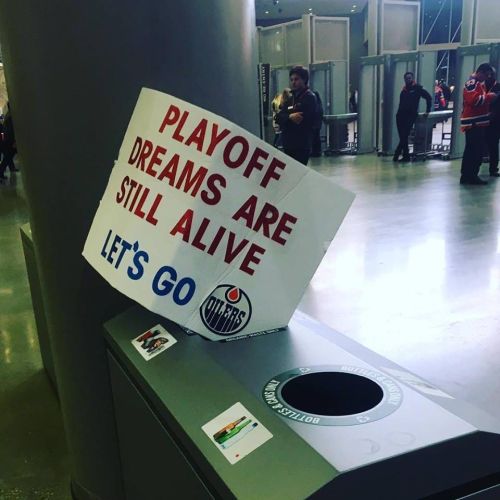 My favourite comment was "Why didn't they put it in the recylcing so they can use it again next year".
Oh Oilers. I'm overjoyed you aren't making the playoffs you dumpster fire of a franchise. I've got many friends in Edmonton and it's been sad seeing how dejected they are this season. I really hope they do a complete overhaul but the way things are going I doubt it.
Busy slate tonight with a lot of key games.
In the East, Penguins are on the road in Buffalo hoping to make it 6 losses in a row. The Habs have a tricky one at the Islanders. Flyers don't have it easy as they host the Capitals fresh off a loss.
In the West, the Hawks have a couple of days off before they play the Habs. They'll be watching a crucial game as the Wild take on the Stars.
It's an interesting night as I've got three bets that I feel are the "right" plays to make, but not feeling amazing about them. We'll see how it goes.
Penguins vs Sabres Betting Tips:
I've mentioned a few times this season that it's hard to put my faith in the Pittsburgh Penguins but based on their opponents tonight, I think I've got to.
I lost with the Sabres last week when they played the Avs. Despite losing, they were still throwing in some solid performances and fighting every game. The only thing the Sabres threw in that game was the towel.
A slightly better performance against the Stars but they seem like a team just counting down the days at the moment until they can get on with the golfing.
Penguins have their flaws. They're not someone you can bank on. But even though they are on the road – this just seems like one of those games where they ought to win ya know?
Eichel is out too that hurts the Sabres. I really hate laying this much chalk on the Penguins and it's very likely I'll regret it tomorrow – but from everything I've seen from both teams, I've got to think the Pens can do it.
0.5u on Penguins to win in reg. I'm already shaking my head at it but especially after that Caps game – I think you've got to put faith in the Pens.
Boy I'm going to be pissed at myself tomorrow when the Pens win in OT.
Canada: 1.92 Odds at 888 Sports.
USA: -120 Odds at Bovada.
Everyone Else: 1.92 Odds at 888 Sports.
(Odds correct as of 2019/03/14 10:56:00 AM EST but are subject to change.)
Jets vs Bruins Betting Tips:
I think we're getting a solid price on the Bruins here.
In terms of the playoffs they're pretty much good although will want to keep racking up points for that home ice. While they had two tough losses to the Jackets and Penguins those were teams playing for their playoff lives. They were still competitive regardless.
The Jets are such a weird team at the moment. Very inconsistent in terms of results but they've had a tough schedule lately and have picked up some sold wins in there.
They're just not a backable team at the moment though. Bruins are someone that regardless of the last two losses have still looked excellent and hungry to win every game. If they lose this one then we can put a pin in them but for now I'm happy backing the more consistent team.
0.5u on Bruins to win incl OT/SO
Canada: 2.09 Odds at BetOnline..
USA: +105 Odds at GT Bets..
Everyone Else: 2.09 Odds at BetOnline..
(Odds correct as of 2019/03/14 10:56:00 AM EST but are subject to change.)
Coyotes vs Ducks Betting Tips:
I honestly feel like I'm setting myself up for an 0-3 night here, but I gotta take the Coyotes.
I've said a few times that I don't believe they are a playoff team. But we're just getting a good enough price on them considering their past performances that we've got to take them here.
If the Coyotes are a playoff team, they win here and they win convincingly. Yeah Ducks have found life the past few games and are having fun playing spoiler.
Coyotes have their destiny in their own hands though, and if they are a playoff team they prove me wrong tonight and win in dominant fashion. I don't believe they'll do it, but I believe mathematically it's the right play.
0.5u on Coyotes in Regulation
Canada: 2.17 Odds at BetOnline..
USA: +200 Odds at Bovada.
Everyone Else: 2.17 Odds at BetOnline..
(Odds correct as of 2019/03/14 10:56:00 AM EST but are subject to change.)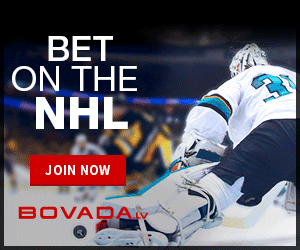 Follow @BetNHL
BetNHL.ca » Tonights Tips »