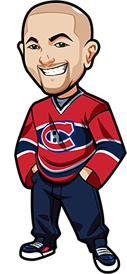 Written by Graeme on Sunday, March 15th, 2020
Follow @BetNHL
A 1-0 day yesterday with the Setka Cup Women Table Tennis betting tips. Antonina Troflmova defeated Valentine Kovalenko as expected. It's amazing that I have more confidence betting on some random Eastern European table tennis right now than I have confidence betting on an NHL game involving the Leafs.
Alas the Mens Beach Volleyball game was postponed due to the coronavirus. Is nothing sacred? We were going to hot a big upset there no doubt with Sesi SP beating Funvic – I've had that game marked on my calendar for months.
I lost with Veitera in Bandy. They got absolutely destroyed 6-1. Who knew a month ago that I would be leaving the sport of hockey to handicap Bandy, and I'd still be sitting here raging at a team taking the night off?
It was also a loss in the Serbian League Water Polo. I had Tent -5.5 and they only won 14-10. They had a big 5th…..period? where they went up 5-1 but it just wasn't enough and they couldn't cover the spread.
So I am currently:
Womens Table Tennis: 1-0 (+0.83u)
Bandy: 0-1 (-1u)
Water Polo: 0-1 (-1u)
Let's get on with todays tips:
Swedish Womens Floorball Betting Tips:
It's Round 25 in the Swedish Super League and one massive game taking place today is betwen the top two teams. IKSU Women are top of the table and 3.5 goal favourites as they take on 2nd place Pixbo Wallensteam IBK Women.
Basically their version of the Boston Bruins versus the Tampa Bay Lightning. I wonder if IKSU boast a variant of Brad Marchand out there just licking everyone. With the virus, maybe that will be their secret to winning the game.
Both teams are very solid defensively with Pixbo having let in 79 goals and IKSU 69 goals. The difference is in offense where IKSU have scored 222 to Pixbos 162. Pixbo are the best road team at the moment though
IKSU do boast Veera Kauppi, who is legit the world's best floorball player. Like seriously – I do my research and she is freaking unreal. Like the McDavid of the Womens floorball world.
Pixbo have kept it close in previous games between the two and I like this to be a 1 or 2 goal decider.
1u on Pixbo Wallensteam IBK Women
Update: Literally 5 minutes after clicking "post", all floorball games were suspended. Well there's an hours research on Swedish Womens Floorball completely bloody wasted.
Quake Pro League Betting Tips:
So this one is actually less of a joke because esports are actually taken very seriously right now, which I think is awesome.
Actually I have a website covering where to bet various sports, and I have an extremely extensive Where To Bet eSports Section. It's been quite neat seeing the traffic for that grow over the last couple of days. (Although I must note I have an esport expert who writes all that)
Even more amusing was seeing my "Where To Bet Chess" article rise up in the rankings. I have a funny story about chess betting and making a ton of money on it many years ago but I'll save that for another day.
In the Quake Pro League I'm going with av3k vs Cooller. av3k are 2.10 underdogs here.
These two played in Week 7 of Stage 2 and Cooller defeated av3k 3-0 there where Cooller had 11 Corrupted Keeps to av3ks 7, 9 Blood Runs to Av3ks 4, and 10 Awokens to Av3ks 9. Av3k got revenge in the finals though defeating Cooller 2-1. We are now in Stage 3 and Cooller got off to a hot start with a 3-0 win over cYpheR in an extremely dominant victory.
I'm backing Cooller to keep his run going. He legit was someone many considered as the #1 Quake player for a period, and while he moved onto Overwatch I think his dominant victory over cYpheR suggests he is motivated for this.
1u on Cooller to win at 1.66 odds
Both bets made at Bet365 (Americans: We recommend http://www.bovada.lv and although this should be obvious – take everything I say with the tiniest grain of salt you can find.
Follow @BetNHL
BetNHL.ca » Tonights Tips »