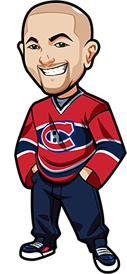 Written by Graeme on Saturday, March 16th, 2019
Follow @BetNHL
Well unfortunately we backed two potential playoff teams last night and both failed. We did get our moneys worth on an entertainment value aspect at least.
I took Philly to win rather than the Over in the Leafs game. Like I said yesterday – the odds for the over were poor, and a large part of it was based on whether Philly would show up or not. They did show up and put in a fighting performance but just couldn't pull off the win. Thats' going to be the nail in the coffin for Philly I think.
I'm not sure if this is available for everyone or not, but here in Canada won their bet when Philly went up 5-2.
Something to bear in mind. If all odds are equal, I'll place my bet at Bet365 (Americans: We recommend http://www.bovada.lv due to that rule. Circumstances like last night are rare but occasionally they come in and man do you feel like a boss.
If the Avs are to make the playoffs, a game like last night was a crucial one for them considering their upcoming schedule. They battled hard but ultimately came up losers. Quite simply – that's a team that isn't playoff material. In the situation the Avs are in, you don't lose games like that.
The Stars suffered a setback as the Knights came to town and beat them 2-1. They still remain top of the wild card in the West.
I'd like to take the Hawks/Habs over tonight but Habs at home are weird at the moment.
I'm a bit all over the place this morning and we've got an early tip so a couple of quick write-ups.
Penguins vs Blues Betting Tips:
How do the Pens not win here? The price is juicy too. I mean look if the Blues manage to recover their mojo then hey good for them. I'll take the loss right in the face.
Over their last few games Pens are showing a lot of ability. Blues have to be broken after that Sens loss. If it reinvigorates them so be it but this is one of those bets where I just can't find any reason not to make.
1u on Pens in Regulation
Canada: 2.17 Odds at BetOnline..
USA: +105 Odds at
Everyone Else: 2.17 Odds at BetOnline..
(Odds correct as of 2019/03/16 12:16:19 PM EST but are subject to change.)
Leafs vs Senators Betting Tips:
Leafs are the Leafs. Battle of Ontario is often the throw out the form book type of game. Sens will want to win and with Leafs on a B2B they'll know it's possible. Both teams should be up for it. No goalie can really keep out the Leafs. Sparks couldn't save a drowning adult in 6 inches of water. Gotta go with the over here.
0.5u on Over 6.5 goals incl OT/SO
Canada: 1.74 Odds at BetOnline..
USA: -140 Odds at BetOnline..
Everyone Else: 1.74 Odds at BetOnline..
(Odds correct as of 2019/03/16 12:16:19 PM EST but are subject to change.)
Capitals vs Lightning Betting Tips:
Defensive, controlling games are not something we've seen from either team lately. More often than not it's high scoring games both offensively and defensively, with both of these sides coming out the victor.
With both having qualified for the playoffs and with this a potential Eastern Conference final, you've got to think both teams just go for it here. Neither team is giving away a ton of chances (lowish CA in quite a few games) but that's a good sign as they're still conceding goals regardless, and with their ability to create and convert their chances this one should go over.
1u on Over 6.5 Goals incl OT/SO
Canada: 1.77 Odds at BetOnline..
USA: -130 Odds at BetOnline..
Everyone Else: 1.77 Odds at BetOnline..
(Odds correct as of 2019/03/16 12:16:19 PM EST but are subject to change.)
Follow @BetNHL
BetNHL.ca » Tonights Tips »