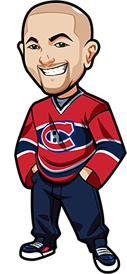 Written by Graeme on Thursday, March 16th, 2023
Follow @BetNHL
It was a bit of a close one last night, but the Capitals duly delivered with a win thanks to a big third period where they managed to get the goals needed.
Some high scoring games in the others, and then a quiet one in Avs/Leafs. That was an interesting one as I felt that while a lot of basic metrics pointed to it going over, the advanced metrics had a lot of red flags. We talked about that one in depth yesterday before deciding not to go with it and that was lucky as it was a tight one.
Let's look at Thursdays slate.
Senators vs Avalanche:
Sens come home after a disastrous road trip in Western Canada. Avs nothing really to write home about either. Looks a very even game. Slight edge to the Avs – odds seem close to right. No bet.
Panthers vs Canadiens:
I don't think Panthers deserve to be such heavy favourites. I do think the Panthers -1.5 should come in but the odds are too low for us, and I don't see enough to back the -2.5. Especially with the Panthers and a couple of their defensive metrics.
If it becomes a 1 goal, empty net situation I'd lean Panthers scoring based on empty net metrics. -1.5 if the odds were like 1.80 I think I'd take it, but 1.68 no thanks.
Rangers vs Penguins:
These two just played with a tight win for the Penguins. Nothing jumping out that has me going for either team.
Devils vs Lightning:
Another repeat. Tampa thumped them 4-1 a couple days ago. Then they play again Sunday. From a viewing perspective, I could see this being kinda exciting in a "best of 3" type deal if there wasn't games sandwiched in between. From a betting perspective, probably an easy pass.
Devils are decent favourites. Should they be? Looking at the metrics – yep they should. But I just can't back a team who got blasted against the same opponent.
Jets vs Bruins:
The inconsistent at best Jets now hosting the Bruins, whose defense has abandoned them a bit lately with two big losses. Not really seeing anything in this one. The over 6 is slightly tempting. Just depends if Bruins go back to shutting teams out or not. And the Jets SCGF/60 is too low for me to back the over.
Predators vs Blackhawks:
I mean Preds should probably get the win here and they beat the Blackhawks 3-1 in Chicago. But I'd have to back the handicap and I don't think there is enough for me to do so. Looking at the metrics – yeah not a chance on me backing that.
Oilers vs Stars:
Oilers had a few fun matches lately. Coming in against the Stars who have also been quite the interesting team. This could be a good matchup.
Both teams scoring an absolute ton last 10 (couple of anomalies in there) and their xGFs are both very high. Goals against high, but xGAs are low.
Unfortunately when it comes to the Oilers, it still comes down to goaltending and overs. Skinner is project but either way I'll go with Over 6.5 goals incl OT/SO if Campbell in net.
Ontario: 1.74 Odds at Sports Interaction (SIA) - Non-Ontario bet $10 get $200
Canada: 1.78 Odds at BetOnline.
USA: -128 Odds at BetOnline.
Everyone Else: 1.78 Odds at BetOnline.
(Odds correct as of 2023/03/16 11:48:02 AM EST but are subject to change.)
Golden Knights vs Flames:
Knights come in on a nice little run. Flames are the usual all over the place disaster. Books have this as a flip. I sadly 100% agree with that. It all hinges on that Flames offense. I mean it sounds obvious – but this is a complete 50/50 game based on whether the Flames convert their chances into goals. Not worth any bet.
Coyotes vs Canucks:
One of those games featuring teams where I don't even come up with an opinion – I just dive straight into the data to see if that tells the tale. Bookies have the odds about right here. An interesting stat is the Canucks with a below 2 SCGA/60. Odds seem right on the money for this one.
Kings vs Jackets:
Kings hefty favourites. Would have to be -1.5. Covered that more often than not this month. Jackets offense is performing well too so it's whether the Kings can contain them or not. Had to dive deep into the game by game basis here.
It's a bit tricky, but I think if Copley is in net, they cover.
One thing to note is that the Kings have a weak defensive record when playing against an empty net. But that's not a massive factor – that's more a concern if we were taking them in regulation.
Kings -1.5 if Copley in net
Ontario: 1.83 Odds at 888 Sports.
Canada: 1.83 Odds at 888 Sports.
USA: -123 Odds at BetOnline.
Everyone Else: 1.83 Odds at 888 Sports.
(Odds correct as of 2023/03/16 11:48:02 AM EST but are subject to change.)
Sharks vs Kraken:
Eh. Play would have to be Kraken in regulation. I guess looking at it, I don't hate it. Some liabilities in net for the Kraken, but the Sharks defensive metrics are absolutely brutal.
The problem with the Kraken too is there's not a goaltender you can rely on. Also can't go with the over due to the Sharks offensive metrics.
One where I lean fairly strongly on the Kraken, but the goaltending concerns me too much.
Follow @BetNHL
BetNHL.ca » Tonights Tips »