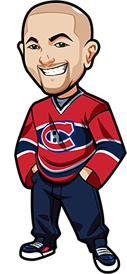 Written by Graeme on Sunday, March 17th, 2013
Follow @BetNHL
What a night of hockey last night. Goals, goals and more goals. The Grand Salami got smashed, with some real high scoring games – and hey those Chicago Blackhawks are pretty good aren't they? After picking up their first regulation time losses people were wondering if the cracks were beginning to show. Well unfortunately for Dallas that wasn't the case last night as the Blackhawks demolished them 8-1.
And man – what about that Kaner goal? This is how you do it kids:
Just beautiful. Look how fast he is going too – that's just incredible.
After a nice full night of hockey, we've got four games going on for March 17th, 2013. One good thing is it is all day hockey so we can start watching the Penguins vs Bruins at noon and are mostly glued to the TV all day up until the Oilers host the Predators.
Predators vs Oilers Betting Tips: Oilers to Win
Just 9 days ago, Nashville absolutely destroyed the Oilers in a 6-0 thrashing at home. However that really seemed to be a wake-up call for the Oilers who have performed a lot better since then, and picked up a few wins. They did lose to Detroit on Friday night but they were still leading for most of the game.
The Oilers seem to be a team that can't get consistency going – but when they start from scratch they usually put in a solid performance. I'm really liking the Oilers to get back on track here – The Predators are struggling with injuries since their previous outing which is going to change things up. Bet Over at World Betting Exchange where I'm seeing as high as 1.90 odds on the Oilers to pick up the W.
Bruins vs Penguins Betting Tips: Under 5.5
The last time these two teams played, the Bruins learned a valuable lesson. Against the Penguins you just can't take your eye off the puck – they did just that, and blew a 2-0 lead with the eventual result being a 3-2 victory for the Penguins.
We're getting 2.01 odds on the under 5.5 which I think is a great price – both teams played last night and this is an early game. It'll be played at a more slower tempo, and the Bruins will be focusing on a really tight game. It wouldn't surprise me for this one to end up 1-0 Penguins or similar.
Jets vs Senators Betting Tips: Senators To Win
The Jets are the surprise package at the moment – but I have a feeling it is going to come to a crashing halt in Ottawa. Both teams went to shootouts yesterday and are going to be tired which sets up a mistake-filled game. But Ottawa are a lot more strict in regard to their play, and the mistakes won't affect them as much.
Plus the hottest person on the ice will be Kyle Turris – the ice practically melts around him at the moment. Despite a few injuries the Senators are still going well. The Jets meanwhile – well they beat the Leafs, but that was AFTER blowing a 4-1 lead.
I enjoy watching the Jets play, and they DID come to Ottawa back in February and pick up the 1-0 win – but I just seeing Ottawa picking them apart this afternoon. You can get 1.8 odds on the Senators to win at World Betting Exchange.
Follow @BetNHL
BetNHL.ca » Tonights Tips »