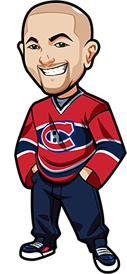 Written by Graeme on Friday, March 17th, 2023
Follow @BetNHL
First – apologies if you are on the mailing list and receiving e-mails late. We've had a huge influx of new subscribers lately, and it's causing a bit of havoc with the e-mails.
It's fixable but it takes a few hours of work and I just haven't been able to find the time. Hopefully get to that soon.
Speaking of time, I'm looking forward to the NHL playoffs. I just find tips are soooo much easier then. It's less about the metrics and the data and is so much more relaxed. Sit back, watch the games, then just write betting tips based on that. Always nice.
A 1-0 win last night with the Kings getting the job done.
Panthers one was really funny as I was leaning them -1.5 so hard yesterday, but I was concerned about their defensive metrics. Imagine being told "Yeah you can take the Panthers -1.5 but they're going to concede 5 goals". No thanks.
Skinner showed he is still the difference maker for the Oilers.
Thankfully avoided anything related to the Preds. What a team they are.
Let's look at Fridays short slate.
Flyers vs Sabres:
Flyers come in on a bad run. Buffalo come in a bit mixed. Got that big Leafs comeback, then blew the spot against the Capitals. Their defensive metrics continue to be atrocious. Flyers should be scoring more based on their xGF – heck it's at 3.1 – but instead turning in 1.89 over the last 10 with an SCGF/60 of 1.59.
You'd think Philly might come alive against this mess of a Sabres defense. Problem is they have faced a couple of teams with poor defensive metrics and not been able to make anything of it.
I don't see a bet here.
Leafs vs Hurricanes:
Leafs stuttering a bit. Canes bounced back from a couple losses to beat the Jets. Canes without Svechnikov is tough although that didn't matter against the Jets. Leafs a different amimal. This one is just too close to call.
Capitals vs Blues:
Capitals still playing poorly. Looking to do the damage to the Blues, who have had some really fun games lately. Looking at the goals scored, the over would seem on the cards.
Both teams have poor xGA and SCGA. The concern is on offence when we look beyond goals scored. Capitals are strong, but the Blues not so much. Offense is scoring way more than they should.
It's a bit similar to that Caps/Sabres game. Of course Sabres got the goals rolling there. I'm 50/50 on whether the Blues offense get going or not. I'm going to personally go with Capitals over 3.5 team goals but I don't hate the over either.
Ontario: 1.83 Odds at Bet365 (Americans: We recommend http://www.bovada.lv
Canada: 1.87 Odds at BetOnline.
USA: -115 Odds at BetOnline.
Everyone Else: 1.87 Odds at BetOnline.
(Odds correct as of 2023/03/17 10:30:13 AM EST but are subject to change.)
Ducks vs Jackets:
Ducks slight favourites. Metrics would probably disagree slightly. But I just don't feel up to backing the Jackets on the road.
Follow @BetNHL
BetNHL.ca » Tonights Tips »