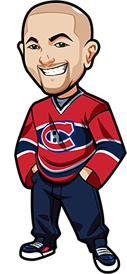 Written by Graeme on Friday, March 18th, 2016
Follow @BetNHL
It's an interesting time being a hockey fan at the moment – especially when it comes to betting.
There's a lot of underdog wins – and often when you don't expect them. We're seeing the better teams battle with consistency, and the worst performing teams randomly show up. You have the Leafs putting on a clinic in Detroit to win 1-0, blowing away the Lightning 4-1 then turning around and getting destroyed by the Panthers 4-1.
You've got the Ducks, coming off the back of an amazing streak now not leading the Pacific anymore. People are already looking at their offense and comparing them to the offense that began the season – which could do no right. Yet during that streak, they could do no wrong.
Hell look at the Blackhawks. They're now on a 4 game losing streak as they go to Winnipeg tonight. Then you have the Flames coming to life these past few games, bringing back memories of last season.
It makes betting a hell of a lot more difficult, but a hell of a lot more satisfying when you do win. What's interesting is when we lose. I've said it before but we go over every game whether we won, lost or didn't bet to see if we missed anything. It's actually something I'd recommend doing to help you become better at betting. Knowing the result, could you look back at everything prior to the game and accurately predict that Over 6 goals, or that big underdog win?
One of the biggest things you'll learn from that is even knowing the result, you can't legitimately predict that correct result for a fair amount of games. At best, you might be able to question the odds. But it's always a fun excercise as it will make you think outside of your normal thinking line – you'll start to factor in things that you normally don't, and you'll also see how big variance is when it comes to hockey.
Last night for example – Devils were on a run of 3 home defeats and bad ones at that. They then managed to put 7 goals on the boards to thrash the Wild 7-4 despite the Wild being pretty decent favourites. So what caused that? We didn't cover the games yesterday due to time constraints, so I don't have any pre-game data to look at. But from what I saw of the Devils game – they came to play. They said "We're ending this home slump tonight". Of course that doesn't always work out. But as soon as they got that early goal 43 seconds in, it enforced their confidence. A goal 50 seconds later and they were up 2-0 and now they were on fire.
That early goal changed everything. If they hadn't got that despite rushing the net early – it might have hurt their confidence. On the flip side – if the Wild had scored first, it's very likely the heads would have went down on the Devils side of things and the Wild would have teed off on them. However that's hockey – one single goal can change everything.
If you were on the Wild last night and are kicking yourself – don't be. Right from the beginning of the game everything went right for the Devils and you were chasing an uphill battle. It's not to say Wild were the correct pick or anything – but within 1 minute and 40 seconds the game became an insanely difficult one for the Wild due to that start the Devils had and that's the way hockey works sometimes. You can watch all the hockey in the world and crunch all the numbers there is – but you just can't predict things like that.
Right – onto Friday, March 18th 2016's NHL Betting Tips. Let's get to them:
Predators vs Capitals Betting Tips:
Capitals are struggling a little bit at the moment. You have to go back to March 2nd when they last won in regulation over the Leafs. Tight games against the Bruins, Ducks and Hurricanes as well as losses against the Sharks, Kings and Rangers.
They do still perform extremely well at home, but they're going up against a Nashville Predators team who are rolling on all cylinders at the moment and who have won a lot of tough road games lately. Predators have the 7th best road record in the NHL and usually their road losses come all at once.
The standout for us here is the odds. The Predators just seem to be massive underdogs here when they really shouldn't be. We'd expect to see them at around 2.20 odds. This is a massive game for them and we're going to take them for the win here for a big upset.
Predators to win
Canada: 2.55 Odds at Sports Interaction.
USA: +145 Odds at Bovada.
Everyone Else: 2.50 Odds at Bet365 (Americans: We recommend http://www.bovada.lv.
Senators vs Sabres Betting Tips:
The Ottawa Senators still seem to have the playoffs in their plans. I personally can't see it and their inconsistent form over the last month shows why they shouldn't be considered a playoff team.
However they're coming off 2 wins in a row over the Wild and the Leafs, and if they're going to be a playoff team then they absolutely have to win games against Buffalo. The fact that they are the underdogs too in this one makes it all the sweeter.
Senators to win.
Canada: 2.05 Odds at Pinnacle Sports.
USA: +104 Odds at BetOnline..
Everyone Else: 2.05 Odds at Pinnacle Sports.
Blackhawks vs Jets Betting Tips:
The Blackhawks are hoping to stop a 4 game slump turning into a 5 game tonight. They're going up against the Jets who have the 4th worst home record in the league. Blackhawks aren't too hot on the road this season but a large part of that is they concede goals a fair amount.
We're not fully convinced on the Blackhawks tonight. These last few games have exposed a lot of problems. However we believe that if they win, they do it in dominant enough fashion and so feel comfortable taking them in regulation based on that.
Blackhawks in Regulation.
Canada: 2.12 Odds at Pinnacle Sports.
USA: +105 Odds at GT Bets
Everyone Else: 2.12 Odds at Pinnacle Sports.
Experimental Betting Systems:
(Our 1st period systems are based on 3 levels of confidence that the system has for each pick. Ideally all 3 systems will be winners long runs, with the high confidence system doing the best but with the least amount of picks etc)
1st Period System Low Confidence: Winnipeg Jets (3.60, Vancouver Canucks (3.40), Calgary Flames (3.00)
Bet 1st Periods at Bet365 (Americans: We recommend http://www.bovada.lv or 888 Sports..
Americans: Bet 1st Periods at BetOnline. or Bovada.
Follow @BetNHL
BetNHL.ca » Tonights Tips »