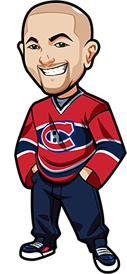 Written by Graeme on Friday, March 18th, 2022
Follow @BetNHL
Hi guys,
It was an 0-2 night for Scott. He had the Stars to beat the Habs in regulation. Stars blew the lead twice in that one. They ultimately got the win but it was in OT.
He also had the new York Rangers to defeat the Islanders. That was a fun game regardless of the result with some solid goaltending. The first period especially was a banger.
Quite a few upsets yesterday in a solid evening of hockey.
Tonight we have six games on the board which is my preferred amount workload wise. Let's get to it:
Senators vs Flyers:
Senators slight favourites here. Neither team has anything to play for so it is a completely meaningless game.
The Flyers haven't won a road game in 2022 which is an 0-9-2 record for the year. They do come in feeling good after that Preds win though. Then you have the Senators who are on a brutal run at home and I mean just brutal all round.
Sens have injuries and the trade deadline is apparently affectign the players according to D.J.
For this one I mean I think the Flyers probably sneak the win here. But it is very close and at 2.05 odds that seems an accurate price with no value. No bet here.
Hurricanes vs Capitals:
Ugh both teams on a back to back. Hurricanes quite heavy favourites. They have had some excellent defensive performances at home lately and have stifled some very good offenses. Raanta is projected to be in net tonight and he was in net against the Avs when he shut them out for 36 saves.
These two played two weeks ago and Washington ran out 4-0 winners there.
I've said it recently that I am a bit concerned when there is a quick turnaround between games between two teams but the Capitals seem to be playing very well at the moment and getting the offense going.
Both seems seem to struggle on the back to back. Looking at the B2B stats I think it gives the slightest of edges to the Caps.
The advanced metrics websites like the Canes to take this one. A lot of that may be their home record of 23-4-2. They perform better here. Caps are 19-7-5 on the road.
If we look at the advanced metrics for the last 10 games – Canes have looked a lot better too. Puck luck being a factor there. A CF% of 57.48 to 48.14, FF% 57.70 to 50.17.
End result – my gut says there is value on the Capitals line, but the data, the Canes impressive home record, AND Canes surely motivated to end their streak against the team that thumped them 4-0? Yeah I just can't advise Caps here.
Jets vs Bruins:
I don't back games involving the Jets. They're slight underdogs here. I think they probably get the win here. Bruins haven't impressed me a ton this season. A real critical game for the Jets if they want to make the playoffs. Boosts their chances from like 10% to 13%.
Bergeron out again for the Bruins.
I could almost be tempted to bet the Jets here honestly. 6-2-1 over their last 9 games. Bruins is generally a step up but without Bergeron that helps.
If the odds were better say Jets 2.25 or 2.30 I think I would end my boycott and back them. But at 2.10 it's not worth it for me.
Flames vs Sabres:
Flames heavy favourites so we'd have to back them at -1.5. Sabres we'd have to back only if we had consumed copious amounts of fireball beforehand.
Although that's not quite true. Sabres have captured magic in a bottle a few times recently such as against the Maple Leafs twice. And the Knights. and the Wild. Don't count them out.
Flames though for the most part look like they are really motivated going into the playoffs and firing on all cylinders. Doesn't look like they are going to slack off from now until playoff time.
Sabres let in a goal with an empty net half the time. Flames have a 13/20 record for scoring against an empty net.
An odd one where I don't know if there is actually value on the -1.5 line or not. It seems to be a nice set line. But I do think Flames are able to cover that.
Flames -1.5
Canada: 1.76 Odds at Sports Interaction (SIA)..
USA: -130 Odds at GT Bets..
Everyone Else: 1.76 Odds at Bet365 (Americans: We recommend http://www.bovada.lv.
(Odds correct as of 2022/03/18 8:47:16 AM EST but are subject to change.)
Ducks vs Panthers:
This could be a good high scoring game. Alas the sportsbooks except that with the 6.5 line.
Not a fan of betting road teams in regulation and the Panthers odds for that are brutal at about 1.71 anyway.
They're also stuttering somewhat on this road trip. Just not enough confidence in Florida here at all but I don't want to back against them either.
Sharks vs Avalanche:
Ooof this one would have to be Avs -1.5. No thanks. Sharks I dunno I look at them and I think hey they might cause the Avs problems. Colorado usually owns the Sharks though. Yeah this one is a big no bet for me.
Follow @BetNHL
BetNHL.ca » Tonights Tips »