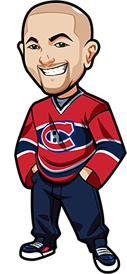 Written by Graeme on Saturday, March 18th, 2023
Follow @BetNHL
A disappointing one last night, as the Capitals couldn't capitalize on the poor defense of the St. Louis Blues. Joel Hofer was one of the stars of the game in that one, as the Blues goaltender saved 32 out of 34 shots.
A tad annoying as I was going back and forth between the Caps team total, and the over. However I would have considered myself very fortunate if I had went with the over – as I wasn't expecting it to go over in that manner.
Leafs got a nice win over the Hurricanes yesterday. Buffalo fell to the Flyers, and the Ducks got a big win in an 11 goal thriller.
It's Saturday. There's a billion games. Only 4 of these Saturday slates left. Can't wait until I can relax on Saturday mornings. Let's get to it.
Red Wings vs Avalanche:
Wings coming in rested after that 2-1 loss to the Preds. Avs are playing well enough I guess but when you look at their W-L record recently it's a bit opponent dependent.
Wings when they raise their game can be impressive – look at the games against Boston last week. Metrics don't support the over. Would have to be Avs in reg. Eh. It's close. At home against this opposition I could see Detroit pushing here. Not loving it.
Wild vs Bruins:
It's a pity the Wild defense has deserted them last couple of games or we could have our first ever under 1.5 play. Boston rebounded with a good win over the Jets. It's a rare 5.5 line. Don't see those often.
Neither teams defensive metrics are really anything mindblowing at the moment. SCGA/60 is the only REALLY good metric for both teams, and the Wild GA/60 although that's been blown out of the water lately.
I'm actually going to go with Over 5.5 in this one. I know it's a bit risky with the overall defensive metrics of either side, but neither has been too hot lately and their offenses are performing very well.
Ontario: 1.88 Odds at Bet365 (Americans: We recommend http://www.bovada.lv
Canada: 1.95 Odds at BetOnline.
USA: -105 Odds at BetOnline.
Everyone Else: 1.95 Odds at BetOnline.
(Odds correct as of 2023/03/18 10:28:45 AM EST but are subject to change.)
Predators vs Jets:
Two teams that I have hated betting on for years. Quick loook at the metrics says that with the Jets overall goaltending, Preds should get the win. But their offense is a bit blah.
Kraken vs Oilers:
Two teams that can be a bit iffy. Some of the metrics point to it being an over game but a bit concerned mostly with the Kraken and their SCGF/SCGA. Then you look at it and it's basically an over 7 game odds wise. Not worth it – although if Campbell is in net, I'll probably back it myself. Seattles offense just can be so inconsistent. Like they really should have hammered it home against the Sharks. Feels similar to the January 17 game where you're backing it but if it comes in, it's likely due to the Oilers offense.
Flyers vs Hurricanes:
Flyers ended their losing run with a nice win over Buffalo yesterday. They did come alive against a team with poor defensive metrics – but that is not something Carolina has.
The Canes off that Leafs game – with both teams on a B2B, I'm fine with skipping it.
Panthers vs Devils:
Panthers had some fascinating matches lately. Now hosting a slightly struggling Devils team. By the metrics, Devils have the advantage in goaltending and defense but this Panthers offense doing well and actually underperforming, so more to come from them it seems.
Close one. I think I'd lean the Panthers just due to their offense. But the Devils defensive metrics are solid.
Lightning vs Canadiens:
With the way the Habs results have been lately I'm a bit surprised this one wasn't set at a 7 O/U. If betting Tampa, it has to be -2.5. Not seeing that at all. Not enough here for the over.
Senators vs Leafs:
Ah ye olde Battle of Ontario. Can be bangers. Last time they played, the Sens ran out 6-2 winners. Leafs on a B2B, and the Sens come in having seen their playoff hopes practically disappear this past week. Leafs looking to put the final nail in their coffin.
This certainly has the potential to go over, especially considering the two teams playing but it just ventures too much into gamble territory for me.
Rangers vs Penguins:
Again? JFC.
Flames vs Stars:
Unfortunately, games involving Calgary are firmly on my "no bet" list at this point and all the metrics in the world won't change that. Looking at said metrics – eh, I'd lean the Stars overall. But then they just lost 5-4 to the Flames, they've had two bad games on this trip already, and the Flames offense is ticking. All of that actually leads to a solid Flames win. So yeah this is a big no bet for me. Flames not winning here would be typical of them.
Kings vs Canucks:
Kings come in rolling. Canucks after some good performances lost to the Coyotes. By the metrics, it's certainly a bit close. It could be a tight one looking at the defensive metrics. Both have really low SCGA.
I went into this one looking to bet Kings in regulation, and I still like that bet. But I'm actually going to go for a rare under play. Under 6.5 Goals incl OT/SO if Demko in net. And whetherer it's Korpisalo or Copley, I'm fine with them.
Ontario: 1.91 Odds at Sports Interaction (SIA) - Non-Ontario bet $10 get $200
Canada: 1.95 Odds at BetOnline.
USA: -105 Odds at BetOnline.
Everyone Else: 1.95 Odds at BetOnline.
(Odds correct as of 2023/03/18 10:28:45 AM EST but are subject to change.)
Coyotes vs Blackhawks:
Nothing really jumping out to me. Slight lean on the Coyotes with their offense at the moment but I'm not taking them in regulation.
Sharks vs Islanders:
Don't have the confidence in the Islanders in regulation which is what it would have to be.
Follow @BetNHL
BetNHL.ca » Tonights Tips »