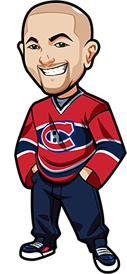 Written by Graeme on Tuesday, March 19th, 2013
Follow @BetNHL
We've been on a killer roll lately, and we continued that yesterday with ANOTHER 3-0 night. Hope you're all enjoying the free money that we're making you!
This isn't NHL related but it's free so why not – our friends over at Wardraft are running a $3,000 Bracket contest for March Madness. There's not too many people in it either so there's a great chance to win $$$.
What makes it better is it is free – you WILL have to sign up very soon though as the first game is in just a couple of days.
To sign up follow these instructions:
Click this link
Register at the site
You will be given a ticket which you can use to join the "Bracket Wars Pickem".
That's it – now you're in and just have to pick.
As I said it's free so why the hell not right – click here and good luck.
Now onto the NHL Betting Tips for March 19th, 2013….a nice board of games tonight with 9 games available to pick our bets from.
Coyotes vs Kings Betting Tips: Kings -1.5
If there is one thing the LA Kings know what to do right now it's score goals. Even when they lose they still manage to put the puck in the old onion bag. Now they're coming up against a Phoenix team that seemingly can't score – add in Jonathan Quick getting on form and Tyler Toffoli looking solid and yeah – LA are just going to be surging up and up.
This is one game where the Kings are just going to walk all over Phoenix. Probably a 2-0 or 3-0 affair and we're going to be going with the -1.5 handicap – a great price of 2.87 over at Bet365.
Home vs Away Goals: Home Goals -2.5
This is an awesome bet we can make over at Bet365. Basically we are betting the handicap on who scores more goals – the home team or the away teams.
Taking the home teams total is pretty much a no-brainer here. We've got New Jersey, the Islanders, Carolina, Columbus, Montreal, Penguins, Jets, Canucks and the LA Kings. At least a few of those teams should romp up a big score.
The only underdogs we're concerned about is the NY Islanders who host the Senators – but Ottawa are hot and cold at the moment and never really put in a lot of goals. And also Winnipeg against Boston – but I just can't see Boston running up a big score there – they may win, but it'll be tight.
Bet the Home Teams -2.5 at Bet365. Go to Hockey and choose the NHL Tuesday 19/03 props section, then Home Goals vs Away Goals.
Coyotes vs Kings Betting Tips: Kings Race to 3 First
We're going to revisit the Coyotes vs Kings game as I see even better options here.
Initially I was going to bet Kings to score first at 1.71 however there's another value bet. We can bet that the LA Kings will score 3 goals prior to the Phoenix Coyotes at a whopping 2.05 odds.
The LA Kings offense is hot at the moment, and there's no doubt they will be the most likely to score 3. The only concern is that they may just score 2 and then we lose the bet but I just can't see it – Kings are hopping at the moment and are going to be rocking this game from the get-go.
Bet the Kings to score at least 3 at Bet365.
Follow @BetNHL
BetNHL.ca » Tonights Tips » March 19th, 2013 NHL Betting Tips