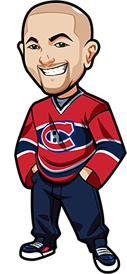 Written by Graeme on Friday, March 19th, 2021
Follow @BetNHL
Alas the Carolina Hurricanes could not get the job done in regulation last night. They ultimately lost in overtime.
Some good hockey yesterday. Quite a few upsets on the board too. Sucks to lose the Canes bet but could have been a much worse night.
Was nice to see the Avs perform like that. That's three massie offensive games and I hope it continues for them. They will have another shot at the Wild tomorrow.
Let's look at Fridays games:
Leafs vs Flames:
While I understand it – it's seriously absurd that the Leafs are such heavy favourites here considering the performances of both teams at the moment. Then you factor in the last game between them went to OT and the one before it Flames thumped them 3-0.
Toronto comes in on rest though and Sutter just had that loss to the Oilers. This is one where I feel so conflicted as part of me thinks the Flames has to be a bet with value but my gut says the Leafs rock and roll with the rest and regrouping. I'll likely stay away although will monitor the line throughout the day.
Capitals vs Rangers:
Rangers coming in off that 9-0 victory over the Flyers. This just seems like a let down spot for them. This is the type of spot where the Caps get rolling.
In saying that these two teams have met twice this season already, and Rangers are 2-0 with 4-2 and 4-1 wins. Both games saw high xG for the Rangers and quite low xGA. Caps were better in the Corsi metrics in both. Rangers creted so many more HDCF in those games though and were up for it although both games are in the top 10 for PDO for the Rangers.
I dunno my gut says the Caps take this one here. Caps are on a nice winning run. This is one I am going to think about during the day and if I like it will post in the comments by 5pm EST.
Canadiens vs Canucks:
Line seems a tad high but I don't have enough confidence in a Habs regulation win OR a Canucks win.
Sharks vs Blues:
I mean based on the last two results for the Blues I don't hate the Sharks here. Feels a bit too close to call. If I was getting like 2.40 on the Sharks I think I'd like it. I will think about this one too throughout the day but seems to be too much of a gamble. Looking at the advanced metrics every game varies drastically.
This one seems like a possibility. It's one of those bets where I don't have strong feelings on it but I do feel there is value. Blues do have Bozak back and Schwartz is expected to be back possibly tonight.
Another one to think over.
Kings vs Knights:
After a few stumbles, Knights seem to be getting back on track. Couple of close games against the Sharks goals wise. I kinda like the Kings too at the moment though. We liked them on Wednesday but the Quick/Brown potential absences put us off and they still got the job done. Probably won't have anything in this game.
In saying that, although I am a bit gun shy on overs at the moment the over 5.5 seems appealing here. That's another one I will be considering.
---
Will have a think over Caps/Sharks and Over in the Kings/Knights and post later in the comments if I decide to make either a play. Just one of those days where there are a few potential plays but I need to sit on them a bit longer, read more and study some analytics. I'd wait to post the tips later but we've got the European peeps who like the early tips so consider those three leans for now.
Follow @BetNHL
BetNHL.ca » Tonights Tips »