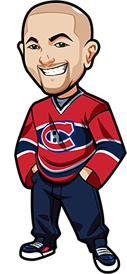 Written by Graeme on Sunday, March 19th, 2023
Follow @BetNHL
Hi guys,
A 2-0 night last night.
The Bruins/Wild game duly delivered with the over. The Wild continued to have defensive issues, and the Bruins picked them apart in a 5-2 victory for an easy over.
The Canucks vs Kings was also an easy under, ending at just 4 goals at the end of regulation. Welcome to why that was dependent on Demko, who saved 38 shots. Kings had a 3.39 xG there. Canucks meanwhile barely troubled Korpisalo. Pretty pitiful that the Kings lost that one, and glad I didn't take regulation.
Our mailing list continues to have issues. I'll hopefully work on it this week. Tips are posted by 12pm EST like 99% of the time, so if you haven't got the e-mail by then, come visit!
Usual sort of Sunday slate. Personally, more pumped for the F1 today. Love this track, and it's a real intriguing race thanks to Max crapping out yesterday. Weird how a simple break from routine throws me off. Usually I get all my e-mails etc dealt with, then dive right into the NHL Tips. Instead spent an hour on F1 bets, and now I just feel completely thrown for a loop. Like forgetting what bookmarks I open etc. Really weird that.
Quick tl;dr- no tips today. Bruins in reg is my only real lean.
Sabres vs Bruins:
Buffalo coming in off that Philly loss. Bruins just beat the Wild yesterday and have put in two back to back impressive performances. Buffalo have been a bit of a feisty team lately. These two played earlier this month and Buffalo were just owned by the Bruins.
I dunno. It feels like there is enough to back Bruins in reg, but I have my concerns. Bruins relying on goaltending a bit right now. Sabres are very leaky, but they still have a slim chance of the playoffs and so have a lot to play for. Bruins I mean you couldn't blame them if they phoned it on on an early Sunday game on a B2B. Bruins in reg still feels like the play, but just not enough for me to back.
Wild vs Capitals:
Ew gross. I'm going right off the Capitals to be honest, and don't think I am going to bet anything involving them for the rest of the season. A quick glance at the metrics and eh – with the Capitals SCGF/60, they are a real wild card and are just as likely to score 0 goals as they are 4 it seems. No bet.
Knights vs Jackets:
Would have to be Knights -1.5 and the numbers don't back that up enough. It's heavily reliant on the Jackets goaltending.
Rangers vs Preds:
Rangers come in on the back of some better results. Nothing is really jumping out at me. I definitely lean the Rangers here but not enough to back them in regulation.
Lightning vs Devils:
This is a really close one, and not seeing anything.
Blues vs Jets:
The over is slightly tempting with the defensive metrics, but I worry about the offenses delivering.
Ducks vs Canucks:
The over was one play I was hoping to back today assuming Demko doesn't play, but unfortunately the value isn't there. It's about 1.76 odds and dropping. You have two teams with below 3 SCGF/60, and even the Ducks SCGA/60 is only 2.59. Neither team big on the xGF. Oh yes this is an easy pass.
Follow @BetNHL
BetNHL.ca » Tonights Tips »