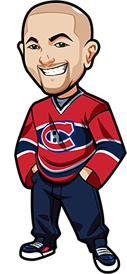 Written by Graeme on Friday, March 1st, 2013
Follow @BetNHL
We went 3-0 last night, with a great betting night. We had the nice easy bet of a goal being scored before 9:30 in Lightning vs Rangers, but we had two tough ones with the Sabres to win and the Leafs to win. Sabres managed to squeeze out the shootout victory while the Leafs picked up the overtime win in a tight contest. Whew!
So a great winning night, and hopefully you made some big bucks! We're on a nice winning run lately – let's continue it for tonight, Friday March 1st, 2013. As always we'll be doing 3 tips every day for you suckers who bet on Proline or Sport Select.
Seriously guys – the odds are so much better online, plus you get free bets, bonuses etc. Sign up at Titan Bet and they'll match your first deposit. So if you deposit $50? They'll GIVE you $50 meaning you have $100 to bet with!
Alright, only 3 games on the board tonight. The Oilers take on the Blues, The Blue Jackets are next in line at the Chicago Slaughterhouse, and Minnesota take on Anaheim. Slim pickings tonight but let's see what we got…
Also – if you are used to betting in decimals – I always list the bets in American odds. But you can use our calculator below to help convert for you:
For example – put in "+110" in the American odds section and you'll see it convert to Decimal/Fraction.
With our awesome 100% match bonus promotion, all of tonights tips will be recommended at Titan Bet. Click the link for more info on the free cash.
Blackhawks vs Blue Jackets Betting Tips: Blue Jackets +1.5:
Usually when there is a handicap, the odds on the underdog are not worth even looking at. That's not the case at all here – we're getting -115 odds at Titan Bet on the Blue Jackets +1.5.
On the surface it looks like the Blackhawks will blow the Blue Jackets away. But that's really not the case. The Blue Jackets this season have been a solid match-up against the Blackhawks. They've lost twice, but both times by just 1 goal. Throw in the -115 odds and we're getting a great value bet here.
Both teams are a bit banged up at the moment, but the Jackets had a fantastic game against Dallas and were unlucky not to pick up the W here. I can see them keeping this one close, and the +1.5 is some great value.
Oilers vs Blues Betting Tips: Blues to have First Power Play:
We're betting here that the first power play will be for the St Louis Blues.
The Oilers aren't afraid to play rough. Their penalty kill unit has been very solid this season. The Blues meanwhile, after starting out strong, have been very weak on the power play. The Oilers know the Blues are going to come out with a high tempo offense, and are going to rough them up with little fear of the power play unit.
I like the Oilers to give up the first PP here, and we're getting -110 odds on it over at Titan Bet.
Wild vs Ducks Betting Tips: Wild To Win
When I do the tips, the first thing I do is analyze the underdogs and see if there is any value, and in the Minnesota Wild I see that value.
As I write this, the Wild are +160 over at Titan Bet. Pinnacle Sportsbook, who usually have the best lines, only have them at +153 which means there's already value there just based on that.
The Wild also have two key factors going for them. First of all Backstrom has been incredibly solid lately – with a 5-1-1 record, and he's in the net tonight. On top of that there may just be life in Heatley – he scored twice in the win over the Coyotes and there's nothing better than backing an on-form forward. Heatley will be going into this game with confidence.
Is this a sure thing bet? Of course not. But the odds dictate a bet here. If it was around +120 I'd give it a miss, but at +160 it's a great value bet.
And I know I've mentioned them a few times – but yeah, claim that free cash over at Titan Bet so that even if it's a losing night, you're betting with the sportsbooks money so no big deal!
Follow @BetNHL
BetNHL.ca » Tonights Tips »