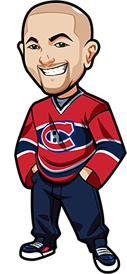 Written by Graeme on Wednesday, March 1st, 2017
Follow @BetNHL
It was a 1-1 night last night with the NHL Tips for an 0.10 unit loss.
We also went 2-0 in the AHL Tips for a 2.05 unit gain.
The Bruins/Coyotes game looked good for going over with 5 games after 2 periods. Alas a typical hockey moment occurred – Coyotes benched their goalie. The teams go in at the end of the period and when they come out the moods generally changed. For Coyotes its mostly about damage control while for the Bruins they're happy with the result they have. Not that it can't go over and there was still a fair amount of shots – but the intensity is out of the game at that stage.
We won with the Red Wings in a close one. Wings had a nice 2-0 lead but blew it before thankfully taking the win in overtime.
One interesting game yesterday was the Jets/Wild. The Wild have been hit with the mumps, and a lot of people were betting the Jets even though they were coming off the bye week.
Illness can obviously be a factor in hockey but the one thing I have learned over the years is that you can't solely bet against a team due to it. If I hear a team is hit with the flu for example or if they had travel issues – I'll look to bet against them. However I won't solely bet on them due to that – I'll look at other factors and I'l treat it almost as every other pick. Especially with a team as deep as the Wild.
Last week I mentioned my Golf Betting Tips website due to the huge winners we had. I saw a lot of you visit so I hope you followed the picks, because I just nailed an 18/1 winner last week as well:

This weeks tips are up at GolfBettingTips.org.
Today we've got 2 games. We were tempted by the Canes/Lightning over. Very good odds for that one and the betting theory is that both teams are giving up this season and planning for the future. With all pressure off you'd see a nice high scoring game. However the concern is who they've traded thus far – Boyle and Stalberg. On top of that Skinner is struggling with injury and McGinn is as well. Just can't back that.
Penguins vs Blackhawks Betting Tips:
This one is goalie dependent.
You'd expect Fleury to be in net however the word on the streets is he may be off to the Flames. That means Murray may play a rare back to back.
If Murray is in net, take Under 5.5 which Pinnacle has for 2.05. This is probably only our 3rd under bet of the season. We absolutely bloody hate them and if we lose it we won't be surprised considering the two offenses on display here.
However all of the stats suggest it goes under and we'll back that if Murray is in net. if that trainwreck Fleury is in net, all bets are off. We can't advise the over if Fleury is in net though due to the way these teams match up.
OHL / WHL / AHL Betting Tips:
(All below systems are based mainly on mathematics and statistics with very little human input and are deemed experimental. Previous Records: OHL 15/16 28-15 (+17.15u)
OHL Betting Tips(22-21, -0.38u): Only 1/2 unit bet on the Frontenacs to win. 2.75 odds. System likes them based on past few performances but man I watch the Fronts a lot and I don't like it.
WHL Betting Tips(30-27, -1.41u): Kelowna Rockets in regulation at 2.25 odds.
AHL Betting Tips(34-21, +12.85u): San Jose Barracuda in regulation at 1.80 odds.
OHL, WHL & AHL Betting:
Canadians: Bodog and 888 Sports.
Americans: Bovada.
Everyone Else: 888 Sports.
Follow @BetNHL
BetNHL.ca » Tonights Tips »