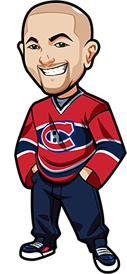 Written by Graeme on Friday, March 20th, 2020
Follow @BetNHL
Welcome to the anything but NHL betting tips for March 20th, 2020.
It was a nice and easy 2-0 day yesterday. I tipped Izumrud Berdsk-pro in the Russia Liga Pro Volleyball and they delivered by winning 3 sets to 1.
I also dook Collingwood in the AFL and they got the win there.
That put's my non NHL betting stats at the following:
Aussie Rules: 1-0 (+0.91)
Bandy: 0-1 (-1u)
Quake: 0-1 (-1u)
Volleyball: 1-0 (+0.83u)
Water Polo: 0-1 (-1u)
Womens Table Tennis: 1-0 (+0.83u)
For a 3-3 record, -0.43 units.
Based on Februarys NHL stats, I'm actually better at betting on Russian volleyball and womens table tennis than I am freaking hockey.
Amazing.
HOCKEY HOCKEY HOCKEY BETTING TIPS:
I randomly clicked on Hockey today at B365 and to my surprise, I saw a listing for Liga pro Short Hockey 3×10 mins.
Oh hell yeah!
So we have multiple betting options for this one. We can bet the money line 3 way, the over/under (all set at 7.5) and then there is even a handicap.
Also it appears teams play multiple per day. Like right now Serp and Molot are playing Broneboytst then later they will play Kings Town, Reaktivatori etc.
Okay then.
Looking through the stats from yesterday, Kings Town won all 4 of their games and seem to be the real unit. They also tumped Reaktivatori today.
So looking at the games they have going on they play Broneboytsy this afternoon who they beat, and who are currently getting beat by Serp and Molot.
So that will be my lone bet in this one – 1u on Kings Town to beat Broneboytsy. 2.10 odds for that one.
Moscow Liga Pro Table Tennis Betting Tips:
So this is mens table tennis. Confession time: my knowledge of mens table tennis is not as good as my womens table tennis. While with womens table tennis I can guarantee lock of the week after lock of the week, that's not the case here.
I'll probably still have more chance at getting this one right than I do a freaking Nashville Predators game though.
I am going to back Alexey Innazarov to beat Igor Elistratov. We all watched a week ago as Aleksei thumped Igor 11-13 and Igor has been on a downward spiral since then. Alexey meanwhile beat Pavel Pinkovskii although he did lose to Burdon. However I like him to take it in a close one. 1.72 odds.
Bets placed at Bet365 (Americans: We recommend http://www.bovada.lv.
Follow @BetNHL
BetNHL.ca » Tonights Tips »