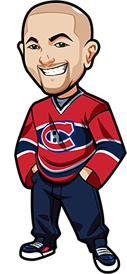 Written by Graeme on Saturday, March 20th, 2021
Follow @BetNHL
It was a fun night of NHL action, and a winning night with our lone betting tip of the Knights/Kings to go over 5.5 goals. Knights went up 4-2 with about 10 minutes left in the 3rd period to wrap that one up. I posted that one in the comments with the caveat only if Fleury wasn't playing. Knights rolled with Lehner instead.
I said yesterday that the Leafs line was absurd and hopefully some of you followed that and bet the Flames at that price as they got the win. I personally chickened out of that one. It can be tough to bet against teams like the Leafs when you know the quality of the team even if it represents value like that.
The other two games I was thinking about was Caps/Sharks. Decided not to go with either. Sharks lost in OT and Caps got a tight win over the Rangers. Was nice not having to sweat.
It's Saturday and you know what that means – 8 billion games. We've got early games up the ass today with Pens/Devils, Preds/Panthers, Wild/Avs and Hawks/Lightning. Love all day hockey.
Let's go through the games:
Avs vs Wild:
The Avs, leaders of SF/60 at 34.70, highest CF/60, lowest CA/60, highest FF/60 – you get the drill, they're rocking it in the advanced metrics – suddenly look like they're able to find the back of the net on a more consistent basis.
They come in with a few solid wins, confidence seems to be growing etc. This is long overdue and I really hope it continues. They're really living up to their expectations. Legitimately this is the type of form that makes me want to place a futures bet on them to win the cup.
Wild missing Dumba too it looks like although last news say it is better than it looks which is good news. Either way I'm good to back Avs in Regulation and hope they continue to perform like this.
Canada: 1.89 Odds at Sports Interaction (SIA) + free $20 bet.
USA: -115 Odds at BetOnline..
Everyone Else: 1.86 Odds at Bet365 (Americans: We recommend http://www.bovada.lv.
(Odds correct as of 2021/03/20 9:39:50 AM EST but are subject to change.)
Devils vs Penguins:
Nothing has really changed opinion wise from the last game. The Pens injuries certainly make the Devils that much more appealing. But it is the Devils. Just so hard to back. Pens were better in the last game in the advanced metrics. If you're looking for a bet for the matinee game I'd certainly say take the Devils, but just can't advise it. Devils have that odd goaltending situ with Blackwood having to be pulled out too.
Panthers vs Predators:
Despite losing the last game against the Preds, Panthers are super duper favourites for this one. I haven't analyzed it all to see the exact numbers but there certainly does seem to be a lot of switching wins when playing each other a couple of times in a row this season. I see no reason after Thursdays game to bet the Panthers at this price. Hell I'd almost rather roll the dice on the Preds.
Lightning vs Blackhawks:
Games between these teams are a generally easy pass.
Capitals vs Rangers:
Just not a fan of these B2B H2H games.
Leafs vs Flames:
Ditto. To be honest I'll probably bet the Leafs here. Feels like a spot where they have prime motivation. Campbell in net and the way things are right now I think that will give the Leafs confidence. It's just hard for me to advise a bet based on pure gut feeling.
Canadiens vs Canucks:
B2B H2H.
Hurricanes vs Jackets:
Canes disappointed us last time as we had them in regualtion. I think they will come out a lot stronger and more focused tonight and that should help. Not going to revisit that bet though.
Red Wings vs Stars:
I said on Thursday there was solid value on the Red Wings. The reasons I stayed off was due to the Stars mood due to that Tampa game.
Value is still there. Unfortunately Bernier looks to be out and that is tough. Greiss is crap this season. In saying that sometimes in situations like this you see a team dig in to support the goalie and the injured goalie.
Goalie situ = no bet.
Islanders vs Flyers:
Islanders come into this one on a losing streak. They have yet to beat the Flyers this season out of 3 games with two of them going to OT. Can't bet the Islanders here but in saying that it feels like after that thrashing by the Rangers, then that win on Thursday it will be a let down spot for the Flyers. I think the Islanders get their first W against the Flyers this year but cannot justify it at those odds.
Ducks vs Coyotes:
I said last time out the teams have close matchups and that proved to be the case again with that one going to OT. Can barely get better than coin flip odds so no bet in a game which is a coin flip.
Sharks vs Blues:
B2B H2H. I did extra analysis on that one yesterday and I can't take either team at that price.
Oilers vs Jets:
Lean on Oilers here. I don't love the odds. Jets are actually a hell of a bounce back team. 8-0-1 following a regulation loss. I respect the bounce back teams a lot. Probably not enough to back the Jets as I still think Oilers take it here. I dunno I will think about this one a bit more and may post in comments. I doubt it though.
$25 risk free bets on player prop, in-game bet and $50 risk free mobile bet. Available for NEW customers only at BetOnline.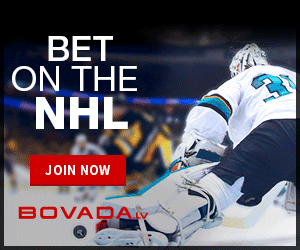 Follow @BetNHL
BetNHL.ca » Tonights Tips »