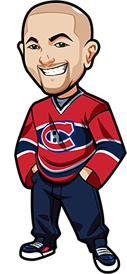 Written by Graeme on Thursday, March 21st, 2019
Follow @BetNHL
A great call by Scott last night as he went with the Leafs to win in regulation over the Sabres and they did so with a 4-2 victory.
That may have seemed like a risky one – and I know a lot of people were backing the Sabres – but a lot of it was about the Leafs motivation level. Living in Ontario, we're conversing with Leafs fans on a regular basis. Even the most die hard Leafs fan will admit they can have serious problems with motivation. You can see some real Jekyll and Hyde performances from the Leafs depending on whether they are motivated or not.
So that's always a major discussion point when the Leafs are on the slate for us – their motivation level in that particular game. We weighed that up yesterday and went with the play and it was nice to see it pay off. Leafs were hungry and determined to take that game.
No games involving the playoff/wild card standings last night. Caps gained a point and still sit top of the Metro but Tampa will be feeling good about that win. Jets got a solid win over the Ducks with a shutout. Those are the type of wins that they need as the playoffs get closer.
Today is a busy day. 12 games on the board. A big game for the Hurricanes as they take on Tampa and a win is crucial for them. Habs also have a tough one hosting the Islanders, and we'll get a wild game with Philly vs Chicago.
We've also got the Stars vs Avs going on. Man oh man what an exciting night in the National Hockey League.
I think Canes can take it today. Lightning have to be fatigued after last nights emotional affair, and there's no better time for the Canes to beat them than today. It would be a massive confidence boosting win for the Canes too. But man – Tampa are one hard team to bet against at that price.
I think Penguins can upset the apple cart tonight. However based on both teams last three results – the odds just don't make it worth a play i believe.
Let's get to it:
Canadiens vs Islanders Betting Tips:
This is a tricky one that I've went back and forth on but I think it's worth a play.
I said the other day – when opting not to take the over in the Habs vs Blackhawks game – that the Habs are a weird team at the moment at the Bell Centre. And that's where this game is tonight.
But I mean this is a must-win game. And I don't know how seriously the Islanders are taking the race for the Metro at the moment. I mean even that win over the Wild – there was just no sense of urgency from them. They got that one with clinical finishing and their solid defense more than anything else.
The Habs are creating a lot of chances at the moment. I've got to think they'll be up for this game from the get-go.
It's one of those where I feel more obligated to bet than anything else. Habs just look like the hungrier team and if they continue to create the chances at the rate they are, they should be able to take this one.
0.5u on Habs in Regulation
Canada: 2.08 Odds at 888 Sports.
USA: +105 Odds at Bovada.
Everyone Else: 2.08 Odds at 888 Sports.
(Odds correct as of 2019/03/21 11:04:36 AM EST but are subject to change.)
Avalanche vs Stars Betting Tips:
Despite a couple of low scoring games of late involving these teams, I think it's got a good chance of going over.
Stars aren't infallible at home. They did thump the Avs recently but Avs lost Gabe that game and it looks like they're turning things around.
Both teams come into this one with offenses creating a lot of chances. Both are knee deep in the playoff race. Bar a standout performance from a goalie tonight or one team doesn't show up (which at this stage would be a surprise)I've got to think both teams give this maximum effort the full 60, and it can go over.
1u on Over 5.5 Goals
Canada: 2.10 Odds at Bet365 (Americans: We recommend http://www.bovada.lv.
USA: +110 Odds at Bovada.
Everyone Else: 2.10 Odds at Bet365 (Americans: We recommend http://www.bovada.lv.
(Odds correct as of 2019/03/21 11:04:36 AM EST but are subject to change.)
Follow @BetNHL
BetNHL.ca » Tonights Tips »