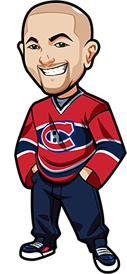 Written by Graeme on Sunday, March 21st, 2021
Follow @BetNHL
Another winning day yesterday as the Avalanche defeated the Wild in convincing fashion. Love seen the Avs finally get going.
You know – I've bemoaned this season a fair bit and games like Penguins vs Devils AGAIN today make me groan out loud but now we're getting more data on the season, I'm starting to really dig it.
One thing I have been doing a lot more of is diving into the advanced metrics for previous head to head battles and looking at that as a priority and I am liking what I see.
It's not fool proof but I find it gives a good baseline for some of the games and how to react. Looking at the Stars for example whenever they give up a high HDCA (High Danger Chances against) if playing their opponent next they generally tighten those holes. That happened yesterday with Stars giving up 9 in the prior game and yesterday just 5 as they tightened up there.
Basically it's the type of season that if it occured next season I think we'd be better prepared for. We're winning a lot more these days than the early part of the season and a large part of that is just coming to grips with the bizarro season.
With that said, let's look into todays four games:
Penguins vs Devils:
Penguins are excellent at home. Devils however are a decent road side with a 6-3-2 record. That includes a couple of wins over the Bruins too. No bet here. I can't bet against the Pens at home even without Malkin. McCann looked like he fit in well there.
Lightning vs Panthers:
Both teams on back to backs. Couple of quiet games for the Panthers goals wise coming into this one. I lean the over here but not enough to back it.
Kings vs Knights:
These two just played on Friday and we won with the over in that one. Line is still 5.5. I could see it happening again but not sure if Fleury in. This is one I'm debating and may post in the comments later.
Stars vs Predators:
Stars come in off that win over Detroit while Preds had that 2-0 loss to the Panthers. These two have played twice this season. You can almost discount the first two games as that was the Stars first games of the season and they were ready to roll. The last game was tied at the end of regulation 3-3 and then the Preds took it.
Looking at the metrics even in that 4-3 loss, Dallas were still the better teams in terms of Corsi, Fenwick, xG, HDCF. Actually in that last one Stars had an HDCF of 16.2 and an HDCA of 3.69.
Now when you look at that it seems like the Stars are an easy bet. But you have to remember the flow of the game. Preds had a 3-0 lead by the halfway point so it's easy to see them sit back and then the Stars getting all those chances.
Here's a look at the xG data from MoneyPuck for example where you can see the Stars only took over at 3-0 down.

Corsi is a bit similar – this graph from Natural Stat Trick: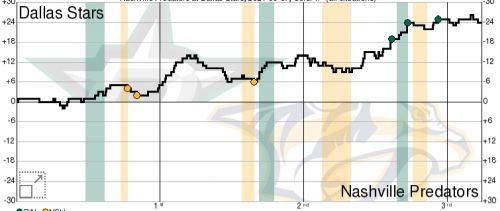 Stars had 3 HDCF in the 1st and then 7 in the 2nd and 3rd.
So that's just an example of looking at advanced metrics; there is more to it than JUST the basic stats. A lot of it is the flow of the game etc. I do think looking at previous matchups – Stars have the edge. The odds unfortunately reflect that.
It looks like Khudobin may get a rest today. Rinne may also be in net. Considering his performance against Tampa on the 15th – I don't wish to bet against him.
No bet in this one.
It's possible I may end up with a bet later – will be monitoring goalies – and if so I will post it in the comments below. Not sure likely though but if so it will be like 30-60 minutes before a game starts.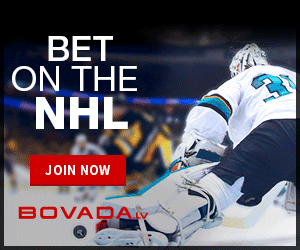 Follow @BetNHL
BetNHL.ca » Tonights Tips »