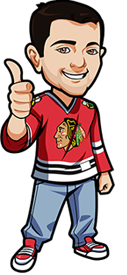 Written by Scott on Friday, March 22nd, 2013
Follow @BetNHL
Hi guys,
Just want to quickly clarify something with the site. My name is Scott and I'm a Blackhawks fan. I run this site with my brother in law Graeme who is a Habs fan. However since we started the site we have both been posting under the pseudonym of Richard – although the picture we used IS of Graeme. Basically when we started the site we used that as a temporary thing – and then we didn't really get round to changing it.
So just to clarify for the future – I'm Scott, and the other guy is Graeme. We alternate nights on tips and it'll always say at the top "Written by Scott" or "Written by Graeme" so you know who is writing the tips. Now we are working on doing this individually we'll update the site with our full bios and hopefully individual records – although one good thing is we DO work on the tips together, and our records are very similar.
But its business as usual for us here at BetNHL so lets get to it
There was some good hockey played last night with some close games but the story of the night has to be this:
[youtube http://www.youtube.com/watch?v=ruxBSEAZYpk&w=500&h=281]
Whats crazy is that is his third career NHL Goal!! Congrats Marty. That ties him with Drew Doughty and Brian Boyle and puts him ahead of Ryan Clowe and Cam Fowler for goals on the year.
Tonight there is 4 games for us to watch and bet on: the Penguins vs the Islanders, The Flames vs the Blue Jackets, Capitals vs Jets and the Red Wings vs the Ducks. So not a bunch of games but still plenty of options
Speaking of which let's get to the Friday March 22nd NHL Betting Tips
Penguins vs Islanders: Penguins To Win
The Penguins are comfortably in first place in the East while the Islanders sit in 10th but when ever these teams play each other it can turn into mayhem. It was just over 2 years ago that they had that bench clearing brawl so there is still bad blood between these two.
At [geocode id=5 they clearly the best odds for this at 1.69 which is a great number for such a lopsided game. Most other Sportsbooks had this around 1.57. Even if Malkin doesn't play tonight, the Pens have shown that they are more than capable of moving on without him, evidence by the fact they haven't lost in the month of March. Oh the luxury of having 2 superstars.
Capitals vs Jets: Capitals To Win
This is the second game in as many nights for these 2 teams with the Capitals beating the Jets 4-0. So with them not having to travel and both being equally rested I don't see why the outcome of this game would be any different as I'm thinking the Caps will win again
The Capitals are so much better than their record would indicate but this year may just be a complete write-off for them. But this team still has all the players that had people predicting them to do damage this year. So head to [geocode id=5 and jump all over their amazing line for this outcome which currently sits at 2.30
Penguins vs Islanders: First To Three Goals The Penguins
For the final tip of the night we will head back to [geocode id=5 and the Pens Isles game for it. It's no secret that the Penguins love to score goals and don't have any problem doing it. And with the bad blood between these two teams I can't see either team letting up once they have the lead
So head to [geocode id=5
Bet that the Penguins will be the first team to 3 goals and enjoy the 2.00 betting odds for this awesome betting option.
Follow @BetNHL
BetNHL.ca » Tonights Tips »