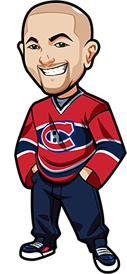 Written by Graeme on Sunday, March 22nd, 2020
Follow @BetNHL
Hi all,
Welcome to the March 22nds Anything But NHL Betting Tips! A 2-0 day on Friday for us.
I ended up skipping yesterday. Just one of those days where I got stuck reading stuff early on and then decided to just take a break from the computer and phone for the rest of the day. Must admit it was quite refreshing getting away from all the media fearmongering and nonsense for a bit.
It was also nice not having to spend so many bloody hours on a Saturday studying all the NHL stuff. Saturday is the biggest slate of the week and I always feel wiped after it ha. So was nice that that wasn't the case yesterday.
I was correct with my prediction on Friday of Kings Town to beat Bronebotysy as well as my prediction of Innazarov to beat Igor Elistratov in the big Moscow Liga Pro Table Tennis match.
This brings my stats to the following:
Aussie Rules: 1-0 (+0.91)
Bandy: 0-1 (-1u)
Liga Pro Short Hockey 3x10mins: 1-0 (+1.1u)
Quake: 0-1 (-1u)
Volleyball: 1-0 (+0.83u)
Water Polo: 0-1 (-1u)
Table Tennis: 2-0 (+1.55u)
For a 5-3 record, +1.39 units.
Props to David in the comments yesterday who tipped Edsbyn in the Swedish Bandy Championship final. Pardon the pun but Edsbyn ran out 5-1 winners and we made out like Bandyits for that one.
Russian Table Tennis Betting Tips:
The Liga pro FNTR Moscow Open is underway right now. I've decided to look at the last game of the day featuring Alik Girevenkov versus Timofey Shatilov. Hey Shatilov – it's spelled TIMOTHY you idiot. Parents must have had a speech impediment or were munching away on a dry scone while giving the nurse his name.
Timofey played yesterday and got absolutely crushed. Didn't win a game. Lost to complete jobbers like Sergey Vakar and Mihail Andrusenko. He will be coming into this one low on morale. And nost just because he's called TIMOFEY.
Girevenkov had some tough outings in the Moscow Liga Pro yesterday too. These two played back in January where TIMOFEY schooled him 11-7.
Historically games between these two are tight. The type of matchup where if it was hockey you'd bet overtime. However I think it's Girevenkovs time to win.
1u on Girevenkov to win
Bowls Grand Prix 2020 Betting Tips:
Bowls. God. I remember actually watching this back in the day. It's legitimately one of those sports that come off so ridiculous, but I find if you start watching it you actually get hooked. Seriously if you can find a stream of this online, give it a go.
I know Bet365 (Americans: We recommend http://www.bovada.lv will actually be live streaming the matches so I'm going to be watching them. There are three games tomorrow and three on Tuesday and I legitimately am stupidly excited at waking up at 5am tomorrow for bowls action.
What the hell is wrong with me.
Looking at the results going into this tournament, the game I am eyeing up is Jonathan West head to head with Penny Strong. From looking at the stats, West is the better player and Penny has been struggling for quite a few years. West puts in a high xGF each game. Okay that's a complete lie I have no idea. But a quick glance at the stats and West stands out to me.
1u on Jonathan West at 1.80 odds to beat Penny Strong
I placed both these bets at Bet365 (Americans: We recommend http://www.bovada.lv.
BOWLS. Can't freaking wait to watch it tomorrow.
Follow @BetNHL
BetNHL.ca » Tonights Tips » March 22nd, 2020 Bowls & Table Tennis Betting Tips