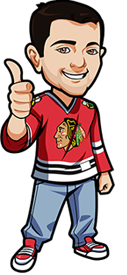 Written by Scott on Wednesday, March 22nd, 2023
Follow @BetNHL
Had 1 tip yesterday.  
I had the Knights to beat the Canucks and they did 4-3.  This was a close game but Quick made 31 saves for the win.
I had the Panthers to win in regulation if Bobrovsky started.  Lyon got the start so didn't have a tip there.  That's a good thing too as the Flyers won 6-3.
There was some games where I dodged a bullet and I am glad I skipped.
I said the Bruins should win but would need to be -1.5.  They won 2-1.  Also said we would need to take the Lightning to win -1.5 but the Habs won 3-2.  And liked the Jets to win but didn't like the spread bet so skipped and they won 2-1.
Mentioned that the Canes vs Rangers game could go either way and would be a good one and it was with the Canes winning 3-2.  Same for the Wild vs Devils game and the Wild won 2-1 in overtime.  Finally I wanted to take the Stars but didn't as it needed to be in regulation and the game went to overtime when the Stars tied it up with 1 second left.  The Kraken won 5-4.
The Jackets were down 5-3 after the 2nd and managed to tie it in the 3rd and beat the Caps 7-6 in OT.
After a busy night with 13 games its a slow night with only 2 and I am OK with that.  I don't have any tips for today's action.
Penguins vs Avalanche
The Penguins are on the outside looking in now.  They have lost 4 in a row and are 1 point back of the Panthers with a game in hand.
The Avalanche are rolling.  They have won 6 in a row and find themselves within reach of 1st place in the Central.
I want to take the Avalanche here as they are on a roll and the Pens are shitting the bed.  But they are out of the playoffs at the moment and are a team with the veterans that know what it takes to win.  I have to pass on this game.
Coyotes vs Oilers
The Coyotes played last night and lost.  They are basically eliminated.  The loss snapped their win streak at 4 games.
The Oilers are riding a 4 game win streak into this game.  They are in 3rd in the Pacific with 88 points and the Knights are 1st with 94 and the Kings 2nd with 92.
The Oilers need to win this game and close the gap between them and the Kings and Knights but we would need to take them  -2.5 and I don't like that enough to make it a tip.
Follow @BetNHL
BetNHL.ca » Tonights Tips »