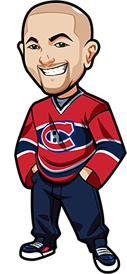 Written by Graeme on Saturday, March 23rd, 2013
Follow @BetNHL
Scott absolutely killed it last night going 3-0 with the NHL Betting Tips. Capitals made easy work of the Jets, and the Penguins gave us a brief scare before coming back to not only win the game, but win the race to three goals to make it a 3-0 night.
Scott also just wrote betting analysis and tips on Bodogs March Props so be sure to read that for some additional chances at getting some free money!
And ouch – did the Calgary Flames ever get a whooping. Just conceding goals like crazy at the moment. Actually the Flames have not had one shutout all season! That's just crazy.
Last nights NHL action was a bit boring – with 3 out of 4 asswhoopings there wasn't much to watch but that's okay – I was able to catch up on March Madness. Not going to be the same tonight with some BIG games on the board. 9 games and we have the Leafs vs Bruins and Habs vs Sabres in two very interesting games.
BTW if you're interested in betting during the game(aka live betting), [geocode id=5 are currently offering live betting tonight on Canucks vs Kings, Bruins vs Leafs and Blues vs Oilers. Click here for that, register and deposit then go to the "Live Betting" section during the games.
Let's get to the NHL Betting Tips for March 23rd, 2013:
Bruins vs Leafs Betting Tips: Bruins to beat Leafs
The odds aren't hot on this one – 1.72 at Bodog is your best bet – but this is a bet where we're still getting favourable odds based on this particular matchup.
The Bruins have the Leafs number. Hell, they have practically everyones number! The Leafs meanwhile are struggling like crazy – in their last 7 games they've lost 6. That's S-I-X. Six! And Lupul is out as well now.
This is a huge game for the Leafs and if they had a raucous crowd behind them I might reconsider – but they're playing at the Air Canada Centre so will be missing a lot of the diehard, loud fans. Especially for a game like this.
Hop on over to Bodog, take their $100 free bet and make yourself at least $72 with it by betting the Boston Bruins to defeat the Toronto Maple Leafs.
Sabres vs Habs Betting Tips: Over 5.5 Goals
We're getting some great 2.00 odds on this one over at Bodog.
Both these teams usually rack up the goals against each other. They average 7 goals per game this season in their previous 3 match-ups. The Habs are showing that they can score at will from any position – just look at PK Subban and his 9 goals for example. Buffalo meanwhile have their top scorer Thomas Vanek back, who is going to be raring to go here. Ott and Hodsgon are also hot, as is Plekanec.
This is a game with a lot of goals written all over it. Go with the Over 5.5 Goals.
Senators vs Lightning Betting Tips: Under 5.5 Goals
In the Sabres vs Habs game we're hoping for goals – but it's going to be the opposite for Senators vs Lightning where we want a snoozevest.
I'm surprised the line of this game isn't 5 goals – I assume it's mainly because the two put up a 10 goal thriller back in January but it's a lot different now we're in Ottawa.
Ottawa are always tight at home defensively. They've went over 5.5 goals just ONCE this season at home, and that was also back in January when they destroyed the Habs 5-1. Tampa Bay on the road average about 2.7 goals but there's always a few freak goals that raise up that figure.
I can see this one being the usual low scoring affair that Ottawa have at home, and am recommending the Under 5.5, especially due to the 1.85 odds at Bodog.
Follow @BetNHL
BetNHL.ca » Tonights Tips »