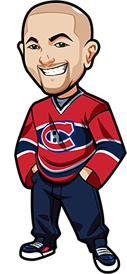 Written by Graeme on Wednesday, March 23rd, 2016
Follow @BetNHL
After 2 games where the Montreal Canadiens completely rolled over to weak opposition, the Habs came back on fire last night with a 4-3 victory over the Anaheim Ducks. Of course we were on the wrong side of all 3 of the games, which prompted Scott to message me last night "I'm not picking any Habs games for the rest of the year?".
I then replied "What about the Habs playoff games?". And then we laughed and laughed and laughed.
It is amazing though to see such jekkyl and hyde performances and as a Habs fan it is particularly frustrating.
We won with the Capitals in regulation as they dominated the Ottawa Senators, bouncing back strong from their loss to the Pittsburgh Penguins. Sharks had 37 shots on goal last night but couldn't get it in once as we lost that one.
We had a social networking exclusive tip of the Coyotes to win and they did that. We hope to amp up our social networking game and introducing live betting soon as we've been slacking a bit. So be sure to like us on Facebook or follow us on Twitter.
If you're a golf fan, be sure to check out my Golf Betting Tips website. WGC, Puerto Ricon Open and Kia Classic Betting Tips just posted.
Had two small cashes last week, but the week before we had this gem: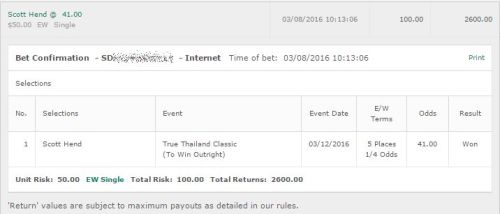 I'm always looking for the big value plays like that and have picked up some huge wins over the last year including a 100/1 place. Plus hey – you'll need something to bet on when the hockey ends!
With only two games today, we thought we'd warm up for the NHL Playoffs by giving our separate opinions.
How it works when it comes to the playoffs for all new readers – is we both give our separate opinions for the games. We keep track separately how each other does and the loser has to buy beer and wings. When it comes to the stats we only count the tips we both agree on. So even if Scott says "Over 5.5" in a game and I say "Penguins to win", and the final score is Penguins 5-3 Canadiens that wouldn't actually be counted in the stats.
It works out well because we both favour different metrics etc, so it allows you guys to get much more insight. Plus in all honesty it's bloody easier for us. You should see some of the arguments we have trying to convince each other to back a team or an over/under sometimes. If there's a game we are opposed on, we have to try and convince each other on that pick. Sometimes it works well, sometimes it ends with us beating the shit out of each other.
We'll do that today:
Senators vs Islanders Betting Tips:
Graeme: Ottawa are starting to tick me off. In a must-win game they go out and lose to the Sabres 3-1 and don't look motivated, then the very next night they hammer the Habs 5-0. This is the next back to back game for the team after they lost to the Capitals last night. They're going against an Islanders team and "the wheels have came off the bus" has never been a more accurate statement.
I'm slightly concerned about the Islanders form at this time but this is the ideal game for them to turn things around in a big, big way. Obviously Halak being out is a huge loss – I know what it's like to lose your goalie, believe me! They're playing a Senators team who have traveled to get here after losing against Washington. They're at home. They're rested. I don't have full confidence in the Islanders, but if they're going to turn things around then this is the game to do it. Islanders in regulation.
Scott: With the Isles barely clinging onto a playoff spot, and the Sens in 12th needing to gain 7 points to get to a tie for 8th with the teams in front of them not winning at all, there is more on the line for the Isles here.
They were once in 2nd in the Metro but with their recent slump the Isles need to snap out of it now.  They have a 2 point lead over the Flyers and Wings and need a strong finish to ensure they make the postseason.
Isles in regulation
Canada: 1.90 Odds at 888 Sports.
USA: -125 Odds at BetOnline..
Everyone Else: 1.90 Odds at 888 Sports.
Rangers vs Bruins Betting Tips:
Scott: The Bruins are on a 3 game losing skid and need to get back to winning to keep ahead of the Isles and their playoff predicament (see above).  The Bruins may be without Rask in this game.
The Rangers are fighting to keep home ice advantage and will take any opportunity to gain points.
The Bruins are ranked 3rd with 2.90, the Rangers 6th with 2.79 gpg.  I like there to be goals in this one.
Over 5
Canada: 1.84 Odds at Pinnacle Sports.
USA: -119 Odds at BetOnline..
Everyone Else: 1.84 Odds at Pinnacle Sports.
Graeme: These two have played twice this season with wins for the home teams. Bruins 4-3, and Rangers 2-1. They play here in New York with Rangers running hot and cold when it comes to the form but they did get that big win over Florida. Bruins haven't won in regulation on the road for 5 straight games and have lost their last 3 against LA, Anaheim and San Jose.
They may be without Rask tonight and even if he isn't he seems to be struggling a bit with injury. I'm going to take Rangers to win here.
Canada: 1.77 Odds at William Hill.
USA: -122 Odds at BetOnline..
Everyone Else: 1.77 Odds at William Hill.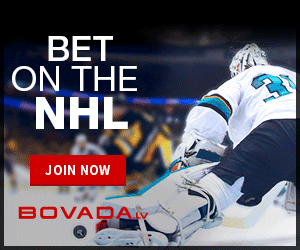 Follow @BetNHL
BetNHL.ca » Tonights Tips »