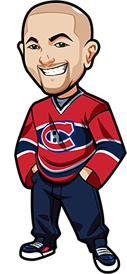 Written by Graeme on Thursday, March 23rd, 2023
Follow @BetNHL
We go from a 2 game Wednesday, to….sigh…a 12 game slate Thursday.
Lovely.
Oh well, the playoffs are almost here. It's been a nice profitable season, and hopefully we can continue to profit down the stretch. Scott logged another win on Tuesday with the Knights beating the Canucks.
No plays yesterday.
Let's get into Thursdays slate.
Flyers vs Wild:
Some better performances from Philly as of late. Offense ticking, and now they go up against the Minnesota Wild who a month ago were a defensive juggernaut. Not so much lately. The Devils even racked up a 4 xG against them.
It's a bit of a tricky one. Minnesotas stats over the last 10 are still a bit affected by the Flames and Canucks performances defensively.
Not really seeing anything I love about this one. I kind of like the over at 6. But Phillys overall offensive stats still not great so you're backing that based on the trend continuing, against a Wild team who have shown a history of being stingy. Just has the word "gamble" flashing in neon red lights at me. (As in, it IS a gamble, not encouraging me to gamble!)
Capitals vs Blackhawks:
I'm done with the Caps this season. A quick glance at the metrics I'd say the books favour them a bit too slightly, but not enough to where I'd bet the Hawks.
Bruins vs Canadiens:
Always a big game. Boston look like they have returned to form after a brief blip. I don't think Montreal know what "form" actually is. They did just beat Tampa and have managed to pull some surprise wins out.
These two met last in January and Boston won 4-2. This is the only game at the TD Garden. Unfortunately, the only possible plays are to do with the over, and the -2.5 for Boston. Montreal have had some insane games lately but the Bruins defense could kill that. Hell Boston could go over on their own. There's not enough in the metrics to consider the -2.5 handicap. Even Bruins over 3.5 goals is only 1.45. Yikes. No play.
Hurricanes vs Rangers:
These two just played and the Canes beat them. Always iffy about backing these type of games when they have just matched up. Hurricanes have also been iffy lately too. Iffy is the word of the day, apparently. Metrics don't see anything standing out anyway. No play.
Red Wings vs Blues:
Another twosome who just played. This time, Detroit are at home. By the metrics, Blues have the edge but that didn't work out well last time. No play.
Senators vs Lightning:
Ottawa coming in off that Bruins loss. They're a better home team than road team. Tampa are .500 on the road and just lost to the Montreal freaking Canadiens. Tampa really feel like a team that just doesn't care at this point – they're just waiting for the playoffs to begin.
Ottawa are basically out of the playoffs. They need a Hamburglar like streak to get in at this point. I'd like to bet them, but their defensive metrics are just too poor.
Panthers vs Leafs:
Panthers had a nice run going then got crushed by Philly. They will hope to get back on track and get closer to the playoffs as they host the Leafs. The Leafs are coming in off that Islanders 7-2 loss and ar a bit all over the place at the moment.
This one has an over of 7. There's a couple of metrics that are off putting there. Panthers defensive metrics primarily. However their offensive metrifcs are excellent and Leafs are poor defensively right now.
Panthers just need to keep doing what they are doing and racking up the goals and putting offense first.
Panthers over 3.5 team goals incl OT/SO if Samsonov not in net
Ontario: 1.83 Odds at Bet365 (Americans: We recommend http://www.bovada.lv
Canada: 1.83 Odds at Bet365 (Americans: We recommend http://www.bovada.lv
USA: -120 Odds at BetOnline.
Everyone Else: 1.83 Odds at Bet365 (Americans: We recommend http://www.bovada.lv
(Odds correct as of 2023/03/23 10:18:52 AM EST but are subject to change.)
Concerned if he plays he has a redemption game.
Predators vs Kraken:
Eh. Not one I really have an interest in betting. A glance at the metrics and yeah not seeing anything.
Stars vs Penguins:
The Preds finally logged a win against the Avs after some absolutely brutal performances. Now they visit Dallas who are in the playoffs already. Stars have been a bit all over the place lately.
This is one where I feel a gut play of "Penguins to win" is fine as they badly need the win, and the Stars aren't at their best. Plus the Pens are coming off a win they hope to build on.
Problem is I have absolutely no confidence in the Pens. At 2.45, I like the price too. It's tough trying to justify it. Pittsburgh should be scoring a lot more than they actually are, and have a ridic CF/60 of 70.03 last 10. Have to wonder if they can carry on the momentum from yesterdays game.
It's a bet I'll likely make myself as I'm a sucker for spots like this, but there's just not enough for me to actually justify it.
Flames vs Knights:
Knights come in as decent dogs here. Flames are inconsistent as all hell but they did defeat the Knights 7-2 in Vegas on the 16th. A lone blip for the Knights in what has been a decent run.
Looking at the metrics, it's not a play unfortunately. Just with the Knights xGA etc – you look at all this and you can see why the Flames blasted 7 past them.
Canucks vs Sharks:
Canucks coming in off that Knights loss but have been playing well. Sharks haven't won in regulation in over a month.
Looking at the metrics, Sharks defensive metrics are poor. Canucks have good offense going. San Jose just can't stop leaking the goals. Vancouver seem like one of those teams thriving now the pressure is off.
Canucks in Regulation if Demko in net
Ontario: 1.95 Odds at Bet365 (Americans: We recommend http://www.bovada.lv
Canada: 1.95 Odds at Bet365 (Americans: We recommend http://www.bovada.lv
USA: -110 Odds at BetOnline.
Everyone Else: 1.95 Odds at Bet365 (Americans: We recommend http://www.bovada.lv
(Odds correct as of 2023/03/23 10:18:52 AM EST but are subject to change.)
Ducks vs Jets:
The Jets are just stupid favourites here. Yeah the Ducks are slumping but they've also played generally well over the last month. Jets have Hellebuyck going for them right now. A lot of places agree with the Jets price though. Money Puck has them at 68.7%.
Jets have had their number this season, but they haven't been capitalizing on their chances like they should.
I dunno. I just think this line is stupid. I'm prepared to lose but for me this is a nice value bet I can't resist. Ducks will probably get blasted 7-0 now but whatever – I can't ignore the perceived value on this one. Hope to see more of Nesterenko tonight. Took him a bit but he got going against the Flames and you could see his confidence grow. They should really use him for the rest of the season to get him adjusted.
Jets complete lack of motivation has been called out by Bowness, so it's possible that lights a fire under them briefly. If that happens, it is what it is.
Ducks incl OT/SO
Ontario: 2.99 Odds at Sports Interaction (SIA) - Non-Ontario bet $10 get $200
Canada: 3.08 Odds at BetOnline.
USA: +208 Odds at BetOnline.
Everyone Else: 3.08 Odds at BetOnline.
(Odds correct as of 2023/03/23 10:18:52 AM EST but are subject to change.)
Follow @BetNHL
BetNHL.ca » Tonights Tips »