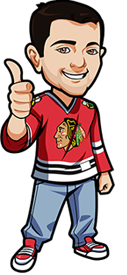 Written by Scott on Saturday, March 23rd, 2013
Follow @BetNHL
What a day of hockey that was and to say it was unpredictable would be an understatement. The Sens continued to defy the odds and beat the Lightning 5-3. The Canucks shutout the Kings 1-0. The Sabres upset the Canadiens and the Leafs ended their losing funk by upsetting the Bruins
7 games on today for this lazy Sunday and a few key matchups worth mentioning; A rejuvenated Ovechkin and company are against the stacked Rangers, Crosby, Kunitz and the Penguins take on their hated rival the Flyers. And the Red Wings take on the Ducks, and remember it was only 2 days ago that the Wings made the Ducks look just average when they beat them 5-1
But lets get to the NHL Betting Tips for Sunday March 24th
Capitals vs Rangers Betting Tips: Capitals To Win
This is the third and final meeting between these two teams with the Rangers win both. Coming off of back to back wins against the Winnipeg Jets, the Capitals have quickly put themselves back into the playoff discussion. With a win the Capitals would be one point behind the Rangers who are currently tied for 8th place in the Eastern Conference.
Ovechkin has been on fire as of late with 6 goals and 9 points over his last six games. So with Ovechkin coming back to life and the momentum of their back to back wins, I'm suggesting you to bet on the Capitals to beat the Rangers at 5Dimes where they currently have the best betting odds for this outcome which are 2.47
Grand Salami Betting Tip: 38.5 OVER
For people new to betting, the Grand Salami is a number and your goal is to bet that if the total amount of goals scored by all teams that night will be over or under the number.
With 7 games being played we need each game to have at least 5.5 goals scored to achieve this. And when you look at some of the players playing and matchups going on I think its safe to say that it will easily cover the 39 goals necessary to win this bet. I mean how can a night of hockey that has such superstars as Crosby, Ovechkin, The Sedins, Stamkos and St. Louis plus many more not produce an incredible amount of goals.
Head to BetOnline. and bet that Grand Salami Over or that there will be more than 38.5 goals scored tonight for a decent even 2.00 odds.
Flyers vs Penguins Betting Tips: Goal Will Be Scored Before 9:30 Of First Period
Talk about a great rivalry. These teams don't like each other and that's no secret. Although they seem to be having completely opposite success this season you can throw records out the door when these two square off
I expect there to be plenty of goals in this game and I am guessing that the first one will come WAY before the half way point of the first period. So head to Bet365 (Americans: We recommend http://www.bovada.lv to bet on this awesome betting prop and 1.87 odds and be sure to watch this game. When you bet on this prop you will be on the edge of your seat until that first goal is scored and it is an awesome rush. Yet another reason why betting online is SO much better than terrible Proline.
Follow @BetNHL
BetNHL.ca » Tonights Tips »