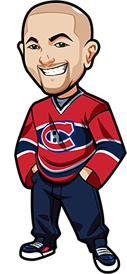 Written by Graeme on Friday, March 24th, 2023
Follow @BetNHL
A 1-2 last night.
The win was the Canucks. They delivered the in regulation win in easy fashion, with a solid 7-2 win over the Sharks.
Lost with the Panthers Team Total over. Disappointing outing from Florida. Murray pulled 33 saves out, but honestly I'd blame the Panthers offense there more than the goalie.
Lost with the big value bet on the Ducks. They got an early lead which had me concerned as I thought that might fire the Jets up. Then it was 2-2 with about 10 minutes left to play and looking possible. Alas the Jets were able to get the crucial third goal, and got the win.
Glad I didn't go with the Pens yesterday. Like I said I am a sucker for spots like that but the data didn't back it up at all. Thank you data. Pens really don't deserve to make it to the playoffs. Big win from the Sens.
Quiet schedule today.
Sabres vs Devils:
Buffalo come in on a brutal run. Thought we might see a revival from them after the Stars loss but they have stumbled back down to mediocrity. Devils are tough to call and inconsistent but they've had a tricky schedule too.
It always feels tricky backing teams who are in the playoffs too. I mean I said that about Tampa yesterday – they are really struggling to find the motivation it seems. I feel like that would be an even bigger factor on a road game. Passing on this one. A glance at the metrics and really the only standout is the Sabres defensive woes.
Jackets vs Islanders:
Islanders pretty massive favourites here considering they are on the road. On a three game win streak, but I mean that's the Sharks, Ducks and a Leafs team who aren't at the top of their game right now.
Jackets coming off that big Capitals game. Both offenses fairly close to each other. The difference is defense and goals against with the Jackets struggling in that area to put it lightly.
it's a bit of a concern as you look at a lot of the Islanders wins and it's not decent teams, but then the Jackets aren't a decent team.
I think we gotta go with Islanders in Regulation. Like I said – I don't have a ton of confidence in them as they're only beating up on the bad teams. BUT the Blue Jackets do fall in that category. Islanders have a few tricky games coming up and need all the points they can get, so they should be taking this one seriously.
Feels like one of those no pressure bets for me – it's all on the Islanders. If they are a playoff team, then they get the job done in spots like this. No excuses.
Ontario: 1.83 Odds at Bet365 (Americans: We recommend http://www.bovada.lv
Canada: 1.83 Odds at Bet365 (Americans: We recommend http://www.bovada.lv
USA: -125 Odds at BetOnline.
Everyone Else: 1.83 Odds at Bet365 (Americans: We recommend http://www.bovada.lv
(Odds correct as of 2023/03/24 9:16:08 AM EST but are subject to change.)
Avalanche vs Coyotes:
The Avs got thumped by the Penguins last time out to stop a nice run over crap teams. Coyotes have been a tough matchup lately.
4.50 for the Coyotes on the road seems a ludicrous price. Like, Avs are the better team sure – but I don't think the odds should be this high. Coyotes offense has been performing very well, Arizona took them to OT recently, and have wins over the Wild, Flames and Preds including taking good teams to OT.
In saying that – there's a big difference between this and the Ducks pick yesterday. I just don't feel good about the Coyotes winning. There's value bets, and there's value bets where you believe you're going to win. The latter was yesterday. This is not the case for today. Especially considering Coyotes are much better at home.
So no play on this one.
Follow @BetNHL
BetNHL.ca » Tonights Tips »