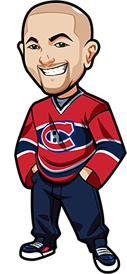 Written by Graeme on Monday, March 25th, 2013
Follow @BetNHL
Really low-scoring night last night. Not one team scored more than 3 goals which, especially this season, is quite bizarre and hurt our Grand Salami bet. Still some good tight games hockey wise though and the Capitals continue to look strong, with a huge win over the New York Rangers on their own turf.
For Monday March 25th, 2013 we've got 7 games on the board. The Leafs take on the Bruins and that'll be a fun one with the Bruins no doubt out for revenge. Chicago are in action with an interesting game against the holders the LA Kings, as the Blackhawks look for the sweep.
You may want to consider betting todays NHL Betting Tips over at Titan Bet – they're currently offering a 100% bonus to $50. What that means is simple – you deposit $50 and they give you $50 bonus.
They've also got a really slick mobile setup. I was trying it out last night – I usually bet with B365 on my cellphone but the mobile app wasn't working – and it was really quite a slick interface. I enjoyed it. They also offer weekly free bets on NHL which is cool – every time you place 5 bets, you get a free bet.
Okay so onto the March 25th, 2013 NHL Betting Tips…
Leafs vs Bruins Betting Tips: Bruins To Win in Regulation
We're getting 1.75 odds on the Bruins to win in regulation time.
Toronto won when these two played on Saturday – but so much of that was because of Anton Kuodibn. He just had an extremely poor game and should never had been in that lineup. I tipped the Bruins to win on Saturday and despite the loss it was clearly still the right betting tip – Bruins absolutely hammered the Leafs with 33-13 shots and just dominated them. If Rask had been in net then it would have been a victory I am sure of it.
Bruins aren't making that mistake tonight, and despite the short odds are at home and should pick up the easy win. Bet Bruins to win at Titan Bet. If you're unsure where to bet it – when you go to the hockey section choose Leafs vs Bruins then choose Boston under the "3 way" section.
Devils vs Senators Betting Tips: Senators To Win
We're getting a nice price of 1.75 on the Senators to win against the New Jersey Devils.
Kovalchuck is out for the Devils, which is going to be a huge loss. They'll pick it up without him – but not on Game 1. It's going to be hard to adjust to his absence, and the Senators have been solid this season despite their injuries.
New Jersey struggle on the road(5-6-4) while Senators excel at home(11-2-3) and I expect them to notch up #12 tonight. Bet the Senators to beat the Devils.
Kings vs Blackhawks Betting Tips: Blackhawks To Win
Another game where the odds are a bit tight at 1.75 for the Blackhawks to win – but still some nice value.
LA Kings are struggling goal wise with no goal in their last 126 minutes of ice time. Now they're taking on the Blackhawks who – not sure if you're aware – but are a freaking awesome team, and have been killing it. Toews has been on fire all season, and has 4 goals, 3 assists in the past 3 games he has played.
Blackhawks return home after being on the road and yep – they're going to put on a show.
Bet the Blackhawks to beat LA Kings.
Follow @BetNHL
BetNHL.ca » Tonights Tips »