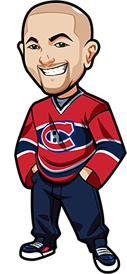 Written by Graeme on Friday, March 25th, 2016
Follow @BetNHL
It was quite the night of hockey last night with upsets galore.
We went 2-2. We won with the Flyers beating the Avs. Flyers had to come from behind twice in that one but they prevailed, hammering the net like crazy and a quickfire double with 6 minutes left put them up 3-2. An empty netter wrapped it up with seconds left.
We also won with the Coyotes/Stars Under 5.5 goals, which we posted on Facebook and Twitter. Coyotes won 3-1 and Domingue put up a great performance to keep the Stars out.
We lost with the Sharks over Oilers. Sharks blew a 2-0 lead as Reimer had flashbacks of playing with the Leafs. That was a crushing game because it also killed our Home Teams -2.5 bet. However nights like last night are the reason I love betting the Salami – for entertainment reasons. It was a blast watching the Leafs deciminate the Ducks, and then flip over to see the Devils are negating that with a thumping of the Penguins. Then the Ducks come back and the Home Teams bet looks buried in the water as the Habs also get some late goals – 3 in the 3rd period to be exact. However the Wild and Jets ran up the score, and it was looking good. Then Oilers happened.
What a thrilling night of hockey that was.
With only 3 games again, me and Scott thought we'd do our individual analysis of each game as opposed to together – much like we did two nights ago and will do in the playoffs. We went 3-0 2 days ago but more importantly man it was fun. Whoever does the worst tonight, will be supplying the beer when we meet up for Easter dinner this Sunday.
Let's get to it:
Devils vs Capitals Betting Tips:
Graeme: The Capitals are hoping to confirm home ice advantage still, while the Devils are still dreaming of making the playoffs. The Devils have picked up two massive wins lately with a home win over the Blue Jackets, and then a stunning 3-0 win in Pittsburgh. Now they have another tough task as they visit their divisional rivals in Washington. I'm going to take Over 5 in this game. Devils are desperate and need the win and will have to throw caution to the wind, while I also don't see them shutting out the Capitals as they did the Penguins last night.
Canada: 2.00 Odds at Pinnacle Sports.
USA: -105 Odds at GT Bets
Everyone Else: 2.00 Odds at Pinnacle Sports.
Scott: With a win the Caps can all but guarantee their 2nd Presidents Trophy with only the Stars having a chance to pass them. The Devils still have a shot at the playoffs but things are looking worse for them with each passing day.  They sit in 10th place, 6 points out of the playoffs. The Caps are 8-2 against the Devils over their last 10 meetings including all 3 games they have played this season.  I like that trend to continue.
Caps in regulation
Canada: 1.88 Odds at 888 Sports.
USA: -120 Odds at BetOnline..
Everyone Else: 1.88 Odds at 888 Sports.
Lightning vs Islanders Betting Tips:
Scott: This game could be a preview of a first round matchup.  The Lightning could move into a tie with the Panthers for 1st place in the Atlantic with a win. The Isles are in 6th in the East but only have a 2 point lead over the 8th and 9th place teams. Greiss should get the start for the Isles and he has gone 1-4-1 with a 2.64 gaa since Halak went down. I like this game to be a high scoring one. Over 5.
Canada: 1.76 Odds at Pinnacle Sports.
USA: -130 Odds at GT Bets
Everyone Else: 1.76 Odds at Pinnacle Sports.
Graeme: This should be a good one. Islanders recovered from their slump with a win over the Sens, and Tampa look like they're back to playing solid hockey. I like everything the Tampa offense are doing at the moment. They just look like the chemistry is there again and you have to remember the Islanders are still missing Halak which could be lethal against a team like Tampa. Lightning in Regulation.
Canada: 2.11 Odds at Pinnacle Sports.
USA: -110 Odds at BetOnline..
Everyone Else: 2.11 Odds at Pinnacle Sports.
Blues vs Canucks Betting Tips:
Graeme: These two teams played a week ago in Vancouver, with the Blues winning 3-0. Some tight goaltending has seen the Blues record two shutouts in a row. Nights like last night make this one look ripe for an upset as everything points to a Blues win. But I just can't see it. If it happens, it happens but I'd rather be on the side of the team I believe will win, rather than take the Canucks because the Leafs, Devils and Oilers won the previous night. That sort of mentality just makes no sense. The odds aren't too great so we'll go with Blues -1.5 with 5 of their last 6 regulation wins covering the puck line.
Scott: The Canucks are tied for last place in the West with the Oilers but have 4 games in hand. The Blues are in 2nd in the West and with a win could move into a tie with Stars for 1st. Elliott has been amazing since his return from injury.  He has 2 straight shutouts and his team is 8-2 over their last 10 overall. I like the Blues to continue their strong play against a down and out team like Vancouver.
Blues -1.5
Canada: 2.08 Odds at 888 Sports.
USA: +105 Odds at GT Bets
Everyone Else: 2.08 Odds at 888 Sports.
Experimental Betting Systems:
(Our 1st period systems are based on 3 levels of confidence that the system has for each pick. Ideally all 3 systems will be winners long runs, with the high confidence system doing the best but with the least amount of picks etc)
1st Period System High Confidence: Tampa Bay Lightning (2.70), Vancouver Canucks (4.50)
1st Period System High Confidence: New Jersey Devils (3.90)
Bet 1st Periods at Bet365 (Americans: We recommend http://www.bovada.lv or 888 Sports..
Americans: Bet 1st Periods at BetOnline. or Bovada.
$25 risk free bets on player prop, in-game bet and $50 risk free mobile bet. Available for NEW customers only at BetOnline.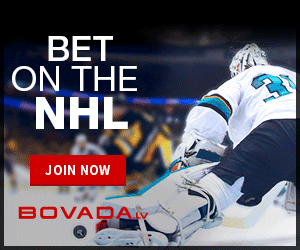 Follow @BetNHL
BetNHL.ca » Tonights Tips »