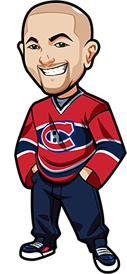 Written by Graeme on Friday, March 25th, 2022
Follow @BetNHL
Hi all,
Despite the big slate we had no tips yesterday. I think I actually forgot to send out the e-mail. My apologies for that.
I think for the next month, we will be doing less and less tips. I guess it depends a lot on the night. There were a lot of lopsided and – in terms of actual playoffs anyway – meaningless games yesterday so it can be hard to really back a team while questioning their drive.
I think for a lot of teams, just the fact that they have made the playoffs is enough and in the NHL, seeding isn't as big a factor for them. You do have teams playing for pride etc of course. I mentioned last week that I like the Islanders at the moment as they are out with something to prove and they showed that last night.
We'll see how it goes. Betting wise there is stuff I don't feel confident enough to advise but I'll still be betting it myself as I see value so I'll mention when I am going to do that.
Five game slate tonight let's see if there is anything:
Rangers vs Penguins:
Rangers are at home here and slight underdogs. They come in off that New Jersey Devils loss where they blew a 2-0 lead. That's one good example – they were up 2-0 then get blown out the next period with 5 goals. So they lose – so what? They're still making the playoffs.
They actually had the higher xG in that one too, despite the goals. Where the heck was that goaltending against the Canes last weekend?
Penguins come in off the Sabres loss. I find it hard to trust teams on the road right now in games like this. I think I'd prefer the home team as you would think they have that to play for at least.
These two could square off in the playoffs and in my head I feel like we end up getting a big high scoring playoff style game here. Could be that sort of atmosphere. But then they just had that 1 goal game on the 26th of February. Although the xG for that one was at least decent with 4.55.
Despite that game, I do think we see this game go over. Potential playoff atmosphere. Two teams coming off frustrating losses. Pens are scoring a lot lately so you have to hope they bring that heat and the Rangers match them. Rangers are usually good for that.
Over 6 incl OT/SO
Canada: 2.11 Odds at BetOnline..
USA: +111 Odds at BetOnline..
Everyone Else: 2.11 Odds at BetOnline..
(Odds correct as of 2022/03/25 10:11:40 AM EST but are subject to change.)
Sabres vs Capitals:
Ooof no. Sabres causing some problems for teams lately. Capital scome in stuttering. Probably some value on Buffalo at this price but I can't advise it.
Jets vs Blue Jackets:
Jets so I don't pick. Blue Jackets continue to get no respect from the sportsbooks. If they were at home, at 2.70 odds, I'd 100% back them here and break my Jets embargo.
Jets on a B2B too. I don't know if I am wearing tinted glasses when it comes to the Jackets but I have liked them a lot this past month at the odds. All the advanced metric sites are like hell no. Jets probably starting Comrie who has been good while the Jackets have goalie injury issues of their own. Korpisalo is out for the year.
Honestly the biggest factor for me is Comrie who has been solid and he probably picks up another W here. I was going to bet on Jackets (but not advise them) but I don't even think I will do that with Comrie in net. Will study that a bit more myself to see if he will be a bigger factor.
Avalanche vs Flyers:
Avs are one of those teams I am really concerned about down the stretch here. Honestly think they are going to start phoning it in and I won't be able to back them with confidence. Flyers are terrible of course but man 4.50 odd is something.
Flyers without Giroux got the big W over the Blues. The thing is – the Flyers have given up. They can't make the playoffs and they know it. That can be dangerous for teams because with no pressure you get a different style of play depending on the team.
Honestly if the Avs weren't coming in off a loss I might even consider advising a value bet on the Flyers. But that usually means complacency won't set in.
Flames vs Coyotes:
If backing the Flames, we would have to take -2.5. Hahah no. They're another team looking a bit rocky lately too. Their defense was out to lunch against the Sharks.
Honestly I don't really bet unders too much but I think I'll place a bet on the under 6.5 here myself. I just don't think it will be the game the sportsbooks expect. I also think after that defensive performance against the Sharks, Flames try and right the ship here and we see like a 2-0 or 3-0 win.
Follow @BetNHL
BetNHL.ca » Tonights Tips »