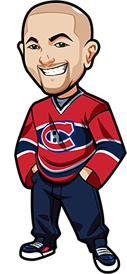 Written by Graeme on Thursday, March 26th, 2020
Follow @BetNHL
Well Scott went 0-1 yesterday with his table tennis betting tip, which I think ultimately proves who is the best table tennis betting expert around.
It's March 26th, 2020 and we're still covering anything but hockey. I must admit I've completely tuned out of the hockey world unless a headline pops across my notifications, such as the postponement of the Combine, Awards & Draft.
BTW In case anyone missed it, The Athletic are offering up a 90 day free trial offer. I've been a subscriber there for awhile now and they are a great resource for the world of sports, including hockey. Their content right now is a tad weak depending on the sport, but there's some fun articles on there and well worth checking out.
So I was last here on Sunday when I delivered two winning tips. I increased my table tennis run to 3-0, and I got off to a great start in the Bowls going 1-0. Here's my current stats:
Aussie Rules: 1-0 (+0.91)
Bandy: 0-1 (-1u)
Bowls: 1-0 (+0.8u)
Liga Pro Short Hockey 3x10mins: 1-0 (+1.1u)
Quake: 0-1 (-1u)
Volleyball: 1-0 (+0.83u)
Water Polo: 0-1 (-1u)
Table Tennis: 3-0 (+2.38u)
For a 7-3 record, +3.02 units.
I ended up getting up and watching the bowls last Monday at 5am and actually thoroughly enjoyed it. It got to the point where I discovered a lawn bowling club in town. It's full of seniors but I have a feeling that in a month or so there'll be quite a few openings. So maybe I will give it a go.
One of my degenerate friends over in Scotland also watched and bet on it with me. He then told me a story of the time he accidently played bowls. He saw a signup at his work and thought it was for ten pin bowling so signed up, only to show up there in his jeans and t-shirt and everyone was dressed up all posh for their game of bowls.
He also gave me a few tips from the "Yeah this is what you don't do category". For example the balls are weighted so you can roll them with a curve but if you turn it over the wrong way it curves into other lanes and pisses people off. "Found that out the hard way". And also "don't carry your pint down the pitch".
Must admit while I've never been much into esports betting myself, I'm really hooked on the combination of live betting and esports betting. Sports games like Fifa are great for that. Also a lot of horse racing. That's how I got started in sports betting back in the day with my grandad putting bets on for me. Was always fun. Initially it was just the Grand National but quickly evolved to the 1420 at Aintree etc. In hindsight probably not the best thing for an elder to teach a younger but man I loved it.
Actually that was my first thought when he passed when I was 12 years old. "Oh no who is going to put my bets on for me?".
Looking at the sports today, alas the only Belarus 2nd Division Handball game takes place at 11:30am EST and most of you won't read this by then. I don't want to make you all jealous by seeing the incredible winning betting tip that you missed so I'll hold off on that one.
So we'll go with the ol table tennis again. See if I can keep my 100% record going as much as I'd love to retire undefeated.
Moscow Liga Pro Table Tennis Betting Tips:
We'll look at the coinflip of a matchup featuring Egor Ovchinnikov versus Sergei Medvedev. This match has been getting the most buzz on the sports networks this week. TSN even ran an article on it: "Ovchnnikov vs Medvedev; how does this affect the Leafs playoff chances?".
These two played on the 24th and Medvedev came out the big 3-2 winner there. Ovchinnikov will come into this one after facing Pulnyi, Tarutin and Tikhonov. Egor is not the best at back to back to back to back to back to back to back games. Runs out of steam a bit.
Egor did beat Medvedev 11-6 and 9-5 way back in January but their play has struggled lately.
Medvedezeededevevev had a solid enough outing yesterday and just seems to be the more in-form player coming into this one. Of course anything can change considering they both have like 50 games taking place prior to this big clash.
However I like Sergei to do the business.
Sergei Medvedev to win. 1.83 odds.
Follow @BetNHL
BetNHL.ca » Tonights Tips »