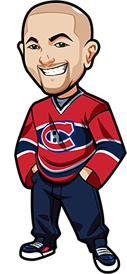 Written by Graeme on Saturday, March 27th, 2021
Follow @BetNHL
Well my strongest lean yesterday was the Sharks/Coyotes over and they duly delivered. That was one I went back and forth on but just couldn't advise it fully. I love backing a hot goalie and while I wasn't sold on Jones at all, I just found it a bit hard to back against him.
I thought the Devils might be competitive against the Capitals but this was a one sided blowout as the Caps won 4-0.
Thanks to the sportsbooks for pricing me out of that Blues in reg bet. With it being a B2B I wasn't feeling good about it anyway but the price made it an easy pass. Blues got thumped 4-1.
Busy Saturday. Lot of early games spaced out. World Cup qualification action. UFC 260 tonight. Match play heating up. Good day for sports fans. Let's see what we got:
Flyers vs Rangers:
Initially this was going to be an easy skip but then looking into it more – I gotta bet something. Just look at the incoming form of both teams going back to March. Rangers are probably a very easy bet even if the Flyers do bring the heat and come out motivated and so on.
I do think that is a slight possibility as we saw that following the 9-0 thrashing. I still like the Rangers odds. I'm going to go with Over 6 Goals incl OT/SO instead though. Flyers have serious defensive issues at the moment but their offense has been able to get the goals the majority of the time. Gotta think they will be up for it while Rangers offense is hot.
Canada: 1.89 Odds at Sports Interaction (SIA) + free $20 bet.
USA: -110 Odds at BetOnline..
Everyone Else: 1.86 Odds at Bet365 (Americans: We recommend http://www.bovada.lv.
(Odds correct as of 2021/03/27 9:10:37 AM EST but are subject to change.)
Stars vs Panthers:
Coinflip odds. Panthers are the better side but are struggling right now. Dallas with those games in hand must be thinking they might be able to make the playoffs. Gotta give them confidence but in saying that – man they haven't been great the last couple weeks with 2 regulation wins in their last like 10 games and a loss to the Wings in there.
For the Panthers the missing piece is Barkov. I think that is clear. They're not backable without him. I was going to back them if Barkov is playing but Hornqvist could be out. Going to monitor that one and may post in comments later.
Bruins vs Sabres:
Bruins -1.5 is likely the play but their lack of consistency is tough. Plus the odds on it are very poor.
Avalanche vs Knights:
Avs crushed the Knights last time. They're on a roll. Love Avs at the moment. This is one I will look into a bit more. Avs in reg is tempting but not sure I can pull the trigger knowing the quality of the Knights. Avs are cup winner quality level right now though.
Red Wings vs Blue Jackets:
Red Wings at home where they had some nice success beating the Stars, Canes, Tampa. Jackets haven't won in regulation since March 4th.
Wings have won one of the two games. Looking at the advanced metrics though Wings were generally only better in that 3-2 loss on the 18th.
I think Wings to win is a very marginal play. I'd prefer slightly better odds. But if you're looking to place the bet I wouldn't disagree with it based on Wings home results. Like if it was 2.50 I'd consider it. If it was 2.60 I'd be betting it I think. Wings scoring issues are a concern too right now.
Hurricanes vs Lightning:
Don't see any value in this one. Would love to bet the Over but past matchups between the two means that generally isn't the case.
Leafs vs Oilers:
Week long break for the Oilers. I think there is value on them but then I think back to earlier this month and how things went. No bet.
Penguins vs Islanders:
Absolutely no idea on this one honestly. One of those where I could easily present an argue for both sides.
Blackhawks vs Predators:
Similar here. Blackhawks on a roll with two wins over the Panthers. This just seems like the random spot where the Hawks phone it in. Seen it so many times over the years. But the Hawks are great at home. No bet.
Coyotes vs Sharks:
Well my concern yesterday was Jones. He likely won't play today and even if he did – he was back to his old self.
I'll be honest – I hate spots like this. Where I see a bet I want to make, don't pull the trigger on advising it, and then go back to it the next date. Hate it.
Looking at team back to back results – Sharks followed up that 6-0 win over the Ducks with a lower scoring 3-1 win. Thumped by Knights. 1-1 game with Ducks. Not good.
Coyotes on a B2B? Well they just had that high scoring 9 goal game with the Avs. Beat the Wild 5-2. Another high scoring one with the Blues in there.
I'm leaning more towards a Coyotes win than anything else right now. This is another one I am going to dive into the data later on and look into more.
Flames vs Jets:
Back to back head to head. No thank you!
Follow @BetNHL
BetNHL.ca » Tonights Tips »