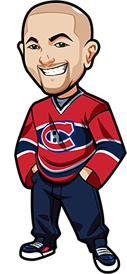 Written by Graeme on Sunday, March 27th, 2022
Follow @BetNHL
Don't you just love those Toronto Maple Leafs? The Habs barely had to put it in an effort yesterday, as they got the win and got us a nice underdog victory at 3.15 odds.
Thanks also to Dan who asked me to dive into Stars / Canucks yesterday in the comments. I wouldn't have did this further analysis without his asking – and a lot of it was based on the lethargic early morning practise they had.
I suggested to him that the Stars would take the lead and to bet the Canucks live in the 2nd period if it wasn't too bad a beating. I was able to get on that myself after the Stars went up 1-0 for a nice little win.
Great betting evening with just those two bets for yours truly.
Sunday is a busy day for NHL. To be honest I am more psyched about todays F1 race. I'm a big Ferrari fan so I am hyped for this season. That battle for pole yesterday was epic. Also a tad nervous as goddamn this is one scary circuit.
Let's see what we got today in the NHL:
Islanders vs Lightning:
Like I've said – the Islanders are a team I quite like at this time of the year. One of the only teams to be honest. Going up against a struggling Tampa team as well.
We haven't seen these two play since November of last year when Tampa blasted them 4-1.
Based on current form as well as the drive of both teams – quite happy to hang my hat on the Islanders here. They just seem the more hungry team and we have seen them bounce back strong.
The back to back is the only real negative here and hey maybe the Islanders come in with momentum. But they have been on the road a lot this month and I hope it is wearing on them – especially with it being an early game.
This one should be a coinflip, odds wise. I'll take the value.
Islanders win incl OT/SO
Note this one is +140 / 2.40 at BetOnline. if you have access there. They can be iffy in regard to countries
Canada: 2.,37 Odds at Sports Interaction (SIA).
USA: +240 Odds at BetOnline..
Everyone Else: 2.35 Odds at Bet365 (Americans: We recommend http://www.bovada.lv..
(Odds correct as of 2022/03/27 10:10:22 AM EST but are subject to change.)
Rangers vs Sabres:
The New York Rangers come in off that big win over the Penguins. They are concening me though ahd Buffalo are causing teams problems at the moment. I don't know if Rangers quite have the drive. Plus it would have to be -1.5. Honestly this is one where knowing the Rangers comebacks and whole motivation deal – I might look to live bet if the Sabres take the lead. But I am avoiding this one.
Penguins vs Red Wings:
I expect the Penguins bounce back strong. -1.5 is only about 1.80 odds. Not sure if Malkin will play or not yet.
Pens are a bit iffy when it comes to the whole bounce back deal. But they are the fresher team, and more motivated surely? It does seem this whole Rangers loss will be spurring them on due to the way they were picked apart.
There's just something about it where I can't quite pull the trigger. Not sure what it is but I just don't have enough confidence on them. They have a decent record scoring against an empty net. Red WIngs are very poor playing with an empty net.
Penguins are just one of those teams where over the years spots like this seem perfect, and then they fail us.
Ugh. I am regretting this one already. Look I have backed the Pens in spots here before and they have failed me. You'd think I would learn. But sometimes all the stars align and I just can't help it. If you examine the metrics, goaltending and defensively wise recently the Red Wings are very similar to the Jackets and we saw how that one went.,
Penguins -1.5
Canada: 1.80 Odds at Bet365 (Americans: We recommend http://www.bovada.lv.
USA: -120 Odds at Everygame.
Everyone Else: 1.80 Odds at Bet365 (Americans: We recommend http://www.bovada.lv.
(Odds correct as of 2022/03/27 10:10:22 AM EST but are subject to change.)
Wild vs Avalanche:
No bet here. Wild been a tricky opponent for teams. Avs I think we will see a lot of disappointing performances from then down the stretch. Bookies seem right on the money with this one with Wild at 2.15. No value.
Predators vs Flyers:
I don't bet the Preds. FWIW, my betting system says this one is an easy over 6 bet.
Jets vs Coyotes:
Aaaand I don't bet the Jets. System does like this one to go over altho not as much as the previous game. Honestly on paper this one looks a super easy one to go over I will probably end up betting it then being extremely disappointed in myself in the morning.
Leafs vs Panthers:
Nothing here. Over 7 is way too high to consider although we could see a big game.
Devils vs Canadiens:
Just gut feeling more than anything else – I think after last nights victory, the Habs phone it in here and the Devils walk it. But I just can't advise Devils -1.5 at 2.55 odds. Price just isn't good enough especially considering the form of both teams.
Follow @BetNHL
BetNHL.ca » Tonights Tips »