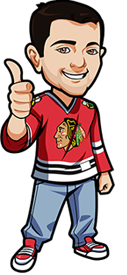 Written by Scott on Monday, March 27th, 2023
Follow @BetNHL
One tip yesterday and we went 1-0.
Had the Kings to win in regulation against the Blues.  The Kings were up 5-1 after the 1st but the Blues managed to keep the game close losing 6-5.  The Kings set a franchise record for consecutive points with 12 games.
The Avalanche beat the Coyotes but needed a shootout for the win 4-3.  The Leafs held on to beat the Preds 3-2 with Tavares scoring a couple.
The Bruins beat the Canes 4-3 in a shootout and Pastrnak scored his 50th of the season becoming the first Bruin to hit that mark since Cam Neely did in 1993-94.
6 games for us tonight.  It's getting harder to find tips the closer we get to the playoffs.  And with some of the games being top teams vs basement teams the odds are bad.
Panthers vs Senators
This is a big game for both teams.
The Panthers have 79 points in 73 games, the Sens have 75 in 72 games.  The Penguins are in 8th place and they have 82 points.
The Panthers haven't been a good road team this season going 15-18-3 but they know they have to win this game.
The Sens are also in the same boat where if they are to have playoff hockey they need to win out and with their upcoming schedule it's going to be tough with games against the Leafs, Lightning, Panthers and a couple against the Canes.
I have to skip this game.  It should be a good one but it could go either way.
Canadiens vs Sabres
The Habs have nothing to loss at this point so they are a hard team to try and predict.
The Sabres are 6 points out and they have a game in hand on the Pens.  They have won their last 2 games but are 3-5-2 over last 10.
The Sabres are the favorites here and with their play over the last 10 my confidence in them has dropped.  I would need to take them in regulation.  But they are at home against a bad Habs team.
Sabres in regulation
Ontario: 1.80 Odds at Bet365 (Americans: We recommend http://www.bovada.lv
Rest of Canada: 1.80 Odds at Bet365 (Americans: We recommend http://www.bovada.lv
USA: -140 Odds at BetOnline.
Everyone Else: 1.80 Odds at Bet365 (Americans: We recommend http://www.bovada.lv
(Odds correct as of 2023/03/27 8:22:14 AM EST but are subject to change.)
Devils vs Islanders
These are usually good games between two long time Metro rivals.
They have played twice this season with each team winning once.
On the road the Devils have gone 26-6-4 and at home the Isles have gone 21-13-3.
I would lean towards the Devils to win but Sorokin can have games where it doesn't matter who they are playing and he will shut them down.  He can be a beast.
It's tough to tip a game when it is between to long time rivals, much like the Bruins vs Habs or Sens vs Leafs, teams seem to have these dates circled on their calendars.
Kraken vs Wild
Kraken come into this game in the first wild card spot.  They are only 3 points back of the Oilers and they have a game in hand.
The Wild are in 1st in the Central but just barely as the Avalanche are 1 point back of them and have played one less game and the Stars are in 3rd also 1 point back.
The Kraken have been a good road team going 24-9-4 and the Wild a good home team going 23-11-3.
Both teams need the points and I could see either winning here.
Avalanche vs Ducks
The Avalanche played yesterday and won.  The Ducks have lost their last 4 games.
As expected the odds are horrible.  I do expect the Avs to win here but I'm worried that they played in Arizona yesterday, which went to a shootout, and then flew to California for this game.  Fatigue may play a roll.
I would need to take them with the spread and they should cover but again it's the no rest and playing 3 games since Friday that has me skipping this.
Oilers vs Coyotes
They played less than a week ago and the Oilers won 4-3.
The Oilers are the favorites and I do expect them to win.  But the odds are terrible.
I would need to take them -1.5 but the Oilers last 3 games needed overtime.  It's for that reason that I have to skip this game.
Follow @BetNHL
BetNHL.ca » Tonights Tips »