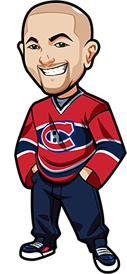 Written by Graeme on Thursday, March 28th, 2013
Follow @BetNHL
Another awesome winning night last night, as we went 2-1. The Bruins was an infuriating one as we had them to win the 1st period. They go down 1-0 then have a 2nd period like that? Insane. What a game that was though. Calgary and Colorado went over 5.5, and the Flames won for the two winning bets there.
I just wanted to make a quick note – you should really follow us on either Facebook or Twitter – whatever is your preference.
The reason for that is I'm currently spending some time doing research on NHL games in-play. The plan is to start offering live betting tips as a game is in progress. I bet quite often during in-play and now I'm working on a betting system to really attack it from a statistical standpoint, as there's a lot of great value I am seeing.
So yeah – "Like" us or "Follow" us as that's where we'll be sharing live betting tips – both on Facebook and Twitter. The sportsbook we'll mostly be using for live betting is Bet365 (Americans: We recommend http://www.bovada.lv so sign up there for an account – they are the best for live betting – both on the computer and via your mobile device.
If you're an American – sorry, you can't sign up at B365, but you CAN do live betting at Bovada.
I hope to be starting this within the next 2 weeks.
Okay I've talked enough – let's get on with todays tips for March 28th, 2013 – a whopping 10 games on the board tonight to choose from:
Rangers vs Senators Betting Tips: Senators To Win
We're getting surprisingly nice value here on the Ottawa Senators to beat the New York Rangers. 1.95 at B365.
Hurricanes vs Leafs Betting Tips: Team To Score First Doesn't Win Game
This is a special bet available at that will happen at B365.
Islanders vs Flyers Betting Tips: Goal Before 9:30
These two teams usually put up some high scoring matches. Even better is they offer some fast-paced action.
Again at Bet365 (Americans: We recommend http://www.bovada.lv we will be betting that either team will score before 9 minutes and 30 seconds. Doesn't matter who it is. This is going to be a fast-paced offensive game and I see a goal nice and early.
Follow @BetNHL
BetNHL.ca » Tonights Tips »