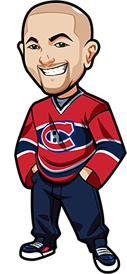 Written by Graeme on Thursday, March 28th, 2013
Follow @BetNHL
Another awesome winning night last night, as we went 2-1. The Bruins was an infuriating one as we had them to win the 1st period. They go down 1-0 then have a 2nd period like that? Insane. What a game that was though. Calgary and Colorado went over 5.5, and the Flames won for the two winning bets there.
I just wanted to make a quick note – you should really follow us on either Facebook or Twitter – whatever is your preference.
The reason for that is I'm currently spending some time doing research on NHL games in-play. The plan is to start offering live betting tips as a game is in progress. I bet quite often during in-play and now I'm working on a betting system to really attack it from a statistical standpoint, as there's a lot of great value I am seeing.
So yeah – "Like" us or "Follow" us as that's where we'll be sharing live betting tips – both on Facebook and Twitter. The sportsbook we'll mostly be using for live betting is Bet365 so sign up there for an account – they are the best for live betting – both on the computer and via your mobile device.
If you're an American – sorry, you can't sign up at Bet365, but you CAN do live betting at Bovada.
I hope to be starting this within the next 2 weeks.
Okay I've talked enough – let's get on with todays tips for March 28th, 2013 – a whopping 10 games on the board tonight to choose from:
Rangers vs Senators Betting Tips: Senators To Win
We're getting surprisingly nice value here on the Ottawa Senators to beat the New York Rangers. Bet365 are giving us 1.95 odds.
Ottawa have played the Rangers twice this season, and won 3-2 both times(once was a shootout victory). Ottawa have also been on-form with 6-2-2 in their last 10 games, and have a sick record at home of 12-2-3 despite all the injuries. Everyone is stepping up for the Senators every game – especially Gonchar of late, who has been killing it on the assists.
I like the Senators to complete the sweep of the Rangers, and even better when we're getting 1.95 at Bet365.
Hurricanes vs Leafs Betting Tips: Team To Score First Doesn't Win Game
This is a special bet available at Bet365 for 2.7 odds. In the Carolina Hurricanes vs Toronto Maple Leafs game we're betting that the team that scores first will NOT win the game.
So if the Hurricanes score first to go up 1-0, we then need Toronto win the game.
This is the type of bet you do if there's a few different variables that can affect the outcome, and if it's a close match-up. This is a very close game. Carolina have been solid on the road, and are 2-0 up on Toronto this season. However they're now putting Peters in goal after both Ellis and Ward are out. Hurricanes I think are starting to feel the pressure too.
This is one of those games where I can easily see either team taking the lead and blowing it, so I'm betting that will happen at Bet365.
Islanders vs Flyers Betting Tips: Goal Before 9:30
These two teams usually put up some high scoring matches. Even better is they offer some fast-paced action.
Again at Bet365 we will be betting that either team will score before 9 minutes and 30 seconds. Doesn't matter who it is. This is going to be a fast-paced offensive game and I see a goal nice and early.
Follow @BetNHL
BetNHL.ca » Tonights Tips » March 28th, 2013 NHL Betting Tips