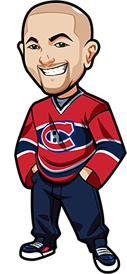 Written by Graeme on Sunday, March 28th, 2021
Follow @BetNHL
It was quite the Saturday in the NHL with a couple of big upsets, and a lot of close games.
The upsets took place in the earlier games with the Knights and Red Wings both winning.
Rangers/Flyers alas that didn't come through. Not much we can do about it – that's hockey.
I liked Coyotes win or the over and in the comments said I liked the over most. Alas that didn't come in. Unlike the Rangers/Flyers game I think this one was easier to look back at and see that Coyotes were the better play due to the Sharks B2B performances. Hopefully some of you followed on that.
Canes/Lightning finally lived up to the promise and went over.
Let's see what we got for Sunday. Writing this too late for the Caps/Rangers game.
Bruins vs Devils:
Devils have actually been a good match-up against the Bruins. Bruins on a B2B and had a close one over the Sabres. Couple of COVID protocols. Rask out.
It's one of those bets I don't go in feeling confident about winning it but I do feel mathematically, it's the correct play. Especially considering Devils road record. This game is a lot more close to a coinflip than the odds suggest in my opinion.
This is one of those games where I am slightly concerned about OT. It kind of presents me with three different bets – odds listed are from B365 for ease:
– 2.60. Devils incl OT/SO and take the risk of OT feeling like Bruins have the edge there.
– 1.90. "Safe" bet of Devils or Draw.
– 4.00. Big risk on Devils in regulation.
If it goes to a shootout, it sucks on paper for the Devils. But I don't feel bad about them in OT. So we'll go with that.
Devils incl OT/SO
Canada: 2.60 Odds at Bet365 (Americans: We recommend http://www.bovada.lv.
USA: +160 Odds at Bovada.
Everyone Else: 2.60 Odds at Bet365 (Americans: We recommend http://www.bovada.lv.
(Odds correct as of 2021/03/28 12:12:17 PM EST but are subject to change.)
Red Wings vs Blue Jackets:
I said the Wings to win was a marginal play yesterday and they delivered. Was nice to see. Not a team I like to back but good when I think they can win a game they pull it off. Back to back head to head no bet today.
Blues vs Ducks:
I mean this is probably a close your eyes, pray to the hockey gods and bet on the Anaheim Ducks at that price kinda bet. I don't think there is enough to advise it. Blues were on a B2B that last game too.
Stars vs Panthers:
Back to back head to head – nothing.
Back to back head to head – nothing.
Follow @BetNHL
BetNHL.ca » Tonights Tips »