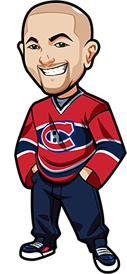 Written by Graeme on Friday, March 29th, 2013
Follow @BetNHL
We went 2-1 last night for another winning night. As we hoped, the Flyers/Islanders game would produce a goal before the 9:30 mark, and the Senators continued their fantastic home form with a dominating victory over the Rangers. I was watching the game and you were beginning to think they might not get by Lundqvist – but they just kept pounding away and eventually broke the door down.
We came sooo close with our longshot bet of the night, which was the team that scores first in Leafs vs Hurricanes not to win the game. Toronto took the lead early on, and then Carolina pulled in front in the 3rd period going 3-2. We were looking good for a nice cash – when with 5 minutes left the Leafs managed to take the game back in their control, and pick up the win.
Still a great night, and money is money! For Friday March 29th we have 4 games on the board. Devils vs Lightning, Ducks vs Blackhawks, Wild vs Stars and Blue Jackets vs the Flames.
We had a huge bump in traffic yesterday so I just wanted to remind people – Like us on Facebook or Follow us on Twitter because we're hoping to provide in-play betting tips over the next week or so, and it will ONLY be available via Facebook and Twitter.
Lets get on with the tips for tonight…
I'm also going to focus on the World Betting Exchange for tonights tips – you REALLY need an account there. You basically bet against other people and well – some people are dummies, to put it lightly. You get a lot better odds and it's set up just like a sportsbook. I'll do odds comparison for each one…
Lightning vs Devils Betting Tips: Lightning To Win
These two teams have played twice this season already, with mixed results. Both games were in New Jersey and Tampa lost 4-2 in early February, then won 5-2 in early March. Tonight the game takes place in Tampa.
New Jersey are struggling at the moment now they've lost Kovalchuck. That's a huge loss for them and you saw it against Ottawa – they had troubles finishing. Their front line has no confidence and I really like the Lightning here – almost enough to tip them on the handicap.
I'm seeing 1.76 odds at most places, but at World Betting Exchange you can currently get 1.8 odds on Tampa Bay to win the game. You can also get 2.2 odds in regulation time which is worth considering as well as I think this is going to be a 2-0 or 3-0 victory to Tampa.
Ducks vs Blackhawks Betting Tips: Ducks To Win
Who can say they've beaten the Chicago Blackhawks this season? Not too many teams. Who can say they've beaten the Blackhawks TWICE? Well the Anaheim Ducks can!
In early February in Chicago, Anaheim beat Chicago in a shootout, and they beat them again just 10 days ago. Sure – the Ducks are having a bad time of it at the moment, but they're going to be able to go into this one with the confidence of beating the Ducks.
Of course this betting tip wouldn't be a betting tip without the odds. Anaheim(who are 2.4 at most books) are a healthy 2.44 to defeat Chicago. This is one of those bets where we're backing it purely on the odds. Could Chicago come out, seeking revenge and rack up an 8-0 score? It's entirely possible – but you just can't ignore good odds like this for a team who match up well with the Blackhawks, and who have already beaten them twice this season.
Wild vs Stars Betting Tips: Wild To Win
Backing two road teams is always a bit nerving, but I really like the Wild tonight against Dallas.
Minnesota have beaten them twice this season, and the Wild are really a team that are clicking at the moment. I mean everything seems to be going right and on the ice they are looking absolutely stellar. I've really been enjoying watching the way they play. Even more surprising is at WBX they're the underdogs – 2.0 odds for Minnesota right now.
Follow @BetNHL
BetNHL.ca » Tonights Tips »