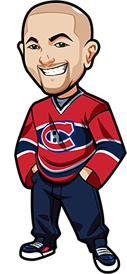 Written by Graeme on Thursday, March 29th, 2018
Follow @BetNHL
It was an 0-1 night last night with our 0.5u play on the Panthers. The Leafs beat them 4-3 as the Leafs came out motivated and pumped up and got off to an early lead that the Panthers just couldn't claw back.
Philly also got a vital win over the Avs which actually pushes them 3rd into the Metro, and pushes the Jackets down into the Wild Card spot. It's a pity the Panthers didn't win as that would have made the East Wild Card race so much more intense. They still have games in hand though so hopefully they can claw back.
I'll have to go back and watch Leafs/Panthers as I only got to see the last 10 minutes of the game. Went to see Ready Player One last night. I'd read and enjoyed the book and have to say I think Spielberg did an amazing job with this adaptation. It's vastly different but I'm very happy with the results. Went to see it in 2D and am going to go again and see it IMAX 3D at some point.
The MLB season kicks off today and I just want to quickly promote my buddy Vins site, BetMLB.org. The dude lives and breathes baseball and that's a good site to subscribe to over the course of the season. His tips for today are already up.
Alright – HOCKEY TIME. HUGE night tonight as the battle in the East continues. From a pure fan perspective, I'm hoping:
– Devils beat the Penguins
– Panthers beat the Senators
– Jackets lose in OT to Flames (Gives Panthers hope)
– Coyotes beat the Kings
– Stars beat the Wild
All of that should help add to the excitement as we go down the home stretch. And then we've got Tampa vs Boston which should be an explosive game.
This could be an amazing night of hockey. Honestly it's one of those nights where I'm just excited for it from a pure fan perspective – so many meaningful games that can lead to more meaningful games and it should be a good one.
Penguins vs Devils Betting Tips:
It's been a surprising series between these two teams this year, with the Devils up 3-0. They look for a regular season sweep tonight.
This is a big game. The Devils are 3 points ahead of the Panthers with a game in hand over the Jackets and Penguins and two games in hand over the Flyers. They can take a LOT of pressure off with a W tonight. However they really don't look like a playoff team. They've struggled or outright lost in a lot of crucial games – when going up against teams who have something to play for. Their home form is cause for alarm with some of the losses in the past month to the likes of the Wild, Jackets, Knights and Jets.
I'd think the Penguins would be looking at the standings this morning and getting a little bit concerned. They're in danger of dropping into the wild card spots and can't even consider themselves safe with the Panthers hanging about there. They're coming off a brutal 5-2 loss to the Wings.
So we have a Devils team who really want this W bad. We've got a Pens team who should also be properly motivated. However the Penguins can't stop a puck for all the money in the world at the moment. And the Devils themselves are having issues with that. Both teams look like they'll have to adapt an offensive first approach to this one.
Over 6 Goals incl OT/SO for 1u is the play
Canada: 1.80 Odds at Bet365.
USA: Bet at Bovada.
Everyone Else: 1.80 Odds at Bet365.
(Odds correct as of 2018/03/29 11:26:54 AM EST but are subject to change.)
Panthers vs Senators Betting Tips:
For the past two months, the Panthers have looked like a playoff team. There's been a couple of times where they take a thumping but they bounce back strong. The biggest concern is there's a couple of times where they just look lost out there. I ended up watching the first period while waiting for some odds to be up and that was one of them. They also had a similar performance early on against the Coyotes – although they came back from that one.
This is a massive game for the Panthers. They've got a 39% chance of making the playoffs and the only way to do it is via the wild card spot so the pressure is on big time – especially after dropping those points to the Leafs last night.
Honestly, I have my concerns. This is a LOT of pressure and you never know how a team will react. The Senators have lost 6 in a row and you never know when a team in this spot will just turn it on. So I'm just going to go with a small play of 0.5u on Panthers in regulation.
Canada: 2.02 Odds at 888 Sports.
USA: Bet at Bovada.
Everyone Else: 2.02 Odds at 888 Sports.
(Odds correct as of 2018/03/29 11:26:54 AM EST but are subject to change.)
Wild vs Stars Betting Tips:
The Stars got the win over the Flyers but you know what they're not a playoff team. They've blown all their chances and now they're at 1.8% chance of making it. They're done.
Wild are one of the best home teams in the league. They're pretty much in the playoffs and even though they lost the last two they still went to OT with solid teams like the Preds and Wild and have beaten some big opponents lately such as the Knights and hell even the Coyotes.
It's possible Stars really amp themselves up for this game for whatever reason with it bing a divisional game but mathematically they have to know they're not gonna make the playoffs. Still I'll advise a bit of caution and we'll go with 0.5u on Wild in regulation.
Canada: 2.08 Odds at BetOnline..
USA: Bet at Bovada.
Everyone Else: 2.08 Odds at BetOnline..
(Odds correct as of 2018/03/29 11:26:54 AM EST but are subject to change.)
Jackets vs Flames Betting Tips:
If the Flames downward spiral ends tonight so be it but they've been absolutely pathetic for the past couple of weeks and just look like they're too busy polishing their golf clubs to care about hockey at the moment.
Jackets are most likely in the playoffs but still have a lot to fight for and the Metro is tight. They're also a team who just look like they want to finish the regular season strong.
1u on Jackets in Regulation
Canada: 2.05 Odds at Bet365.
USA: Bet at Bovada.
Everyone Else: 2.05 Odds at Bet365.
(Odds correct as of 2018/03/29 11:26:54 AM EST but are subject to change.)
Coyotes vs Kings Betting Tips:
This just feels like a nice value play more than anything else. Coyotes don't have that bad a record in LA and they're playing good hockey. You never know how they're going to perform on a night to night basis and on the 2nd leg of a B2B after beating the Knights I could see them crashing. However their B2B record lately is fine and the Kings are inconsistent.
I'd personally put the true odds on this at Coyotes 2.60 at best so I see value here. 0.5u on Coyotes incl OT/SO
Canada: 3.55 Odds at Sports Interaction + $20 Free Money Line Bet.
USA: Bet at Bovada.
Everyone Else: 3.40 Odds at Bet365.
(Odds correct as of 2018/03/29 11:26:54 AM EST but are subject to change.)
Follow @BetNHL
BetNHL.ca » Tonights Tips » March 29th, 2018 NHL Betting Tips