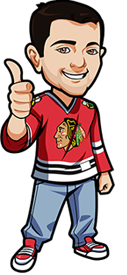 Written by Scott on Wednesday, March 29th, 2023
Follow @BetNHL
Had two tips yesterday and went 0-2 .
I had the Penguins to win in regulation against the Red Wings.  The Wings were up 3-0 after the 1st but the Pens tied it up in the 2nd.  In the end the Wings won 7-4.
I also had the Jets to win in regulation against the Sharks and they lost 3-0 with Reimer making 41 saves in the shutout.
The Preds beat the Bruins 2-1 for yet another example why I avoided tipping games with them playing.  The Lightning shutout the Canes 4-0 snapping their 4 game losing skid.  Even the Blues beat the Canucks 6-5 in OT which was only the Canucks 3rd loss in their last 13 games.
Only 3 games for us tonight.  The playoffs start in just over 2 weeks and I can't wait.
Isles vs Capitals
The Isles are 6-3-1 over last 10 and unless the Rangers go on a losing streak to end the season the Isles are going to the playoffs as a wild card team.
The Caps have a lot of ground to make up.  They have gone 3-5-2 over last 10 and are 6 points behind the wild card.
This is a tough one to call and the odds are a coin flip and I agree. Would lean towards an Isles win but am skipping.
Panthers vs Maple Leafs
Huge game for the Panthers here.  They have dropped their last 4 games which couldn't come at a worse time for then.
The Leafs have clinched a playoff spot.  They have gone 6-3-1 over last 10 and have a 5 point lead over the Lightning for 2nd in the Atlantic.
The Panthers are conceding less chances but the Leafs are conceding less goals overall.  I would lean towards a Leafs win but with them clinching a spot and having a decent lead over the Lightning with 2 games in hand we have to consider their compete level.  This one could also go either way.
Wild vs Avalanche
Big game here too this time between the top 2 teams in the Central.
The 1st place Wild have gone 7-1-2 over last 10 including their last 2 games.  On the road they have gone 19-11-6.
The 2nd place Avalanche have gone 9-1 over last 10 including their last 3 in a row.  At home they have gone 20-12-5.
The Avs have won both games between these teams this season.
Defensively the Avs are a better team going by the metrics.  I would lean towards them winning but it would need to be in regulation.  And with 1st place in the Central on the line both teams should show up and this could go either way. 
Follow @BetNHL
BetNHL.ca » Tonights Tips »