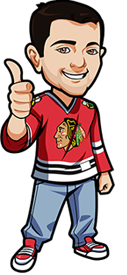 Written by Scott on Saturday, March 2nd, 2013
Follow @BetNHL
The St.Louis Blues beat the Oilers 4-2 but the biggest loss for the Oilers in this game wasn't the 2 points it was Taylor Hall who left with a leg injury so hopefully he'll be alright. The Ducks managed to hold off the Wild who came back from a 3-0 deficit to lose 3-2.
Would the Blackhawks just hurry up and lose already?! Every time the Hawks score or win my buddy is not long after texting me this:
So as you can imagine I'm about ready to smash my phone.
It's a great full day of hockey today with games starting at noon and continuing on until 10:30. So ditch the proline BS and get to your computer and lets make some money.
First off at noon the Sens are in Philly to play the Flyers which will be a great and rough game. Then at 1 it's the Lightning vs the Bruins in a game that I'm pumped to watch and it should be a high scoring game as Stamkos is just on fire right now. Other games of note are the Penguins vs the Habs, the Kings vs the Canucks and the Predators at the Sharks. All in all we are in for a great night of hockey
So let's get down to business and the NHL Betting Tips for Saturday March 2nd
Lightning vs Bruins: Lighting To Win+176
This game could go either way with the Bruins being the obvious favorite here. But with Pinnacle Sports Offering +176 Odds this is just to good to pass up on.
The Lightning are a better team then the record would suggest and with the star power this team possesses it's only a matter of time until the turn their season around. The Bruins are playing fantastic hockey as of late and they may very well win this game but +176 for a Lightning Win is just amazing and well worth the risk.
Capitals vs Jets: Capitals To Win+117
Well The Washington Capitals are doing terrible and this season may be all but over for them already. And the Jets could, with a win today, be in first place in the Southeast Division.
But you have to think that eventually the Caps will start winning and why not now? [geocode id=5 currently has the odds for a Capitals Win at +117. Like the last tip, this game isn't a sure thing but the odds are just to valuable to miss out on.
Penguins vs Canadiens: Penguins To Win+105
No that's not an error. JustBet has the Odds for a Penguins Win At +107. That is incredible considering it's the Pittsburgh Penguins who may be the visitors but still.
I hate betting against my team but the number one rule for betting on sports is you MUST take your heart out of it. Just because it's your team you gotta use your head and pick who you think will win. So make sure you go to JustBet and jump all over this Penguins Win +107 Betting Odds before they change to to around -110 where it should be and where most of the other books have it at.
Follow @BetNHL
BetNHL.ca » Tonights Tips »