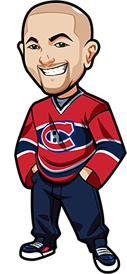 Written by Graeme on Thursday, March 2nd, 2023
Follow @BetNHL
I think we're going to have to start borrowing the "silly season" phrase from F1, to apply it to the NHL trade deadline period. My god it is just all over the place.
Looking forward to it all settling down. It's such a bizarro, crazy time that the 2023 Stanley Cup Champions actually lost a game to the Oilers. The invincibles losing a game! Crazy stuff.
Some fun games yesterday and some good battles. Devils vs Avs was a banger.
Let's get right into Thursdays card and just do the best we can.
Bruins vs Sabres:
Bruins coming in off that MENTAL Sabres game. They're getting solid but tight wins for the most part at the moment. Buffalo are a bit all over the place. Sure, beat Tampa, Florida, Caps, get thumped at home to the Jackets. Why not.
Not trusting Boston on the handicap, but I do think their defense has the ability to really stifle the Sabres. They didn't do that last time these two played though. No bet.
Panthers vs Predators:
Preds decent underdogs here. Nashville won 7-3 a couple of weeks ago against Florida. Panthers are just a mess. Preds not much better though. Yeah I just can't see backing Nashville with any degree of confidence, and I wouldn't touch Florida at this price.
Could be a high scoring game, but the SCGF/SCGA for both teams is all below 3 so feels like it will be tight in regard to it going over. No bet.
Rangers vs Senators:
Rangers coming in off that Flyers game yesterday. They have not been impressive in the past week and a bit. Ottawa two big wins over Detroit. The offensive metrics for these teams are practically the same, and the difference is the defensive metrics where the Rangers are worse.
It actually makes a play on the Sens enticing. Especially factoring in Rangers on a B2B. Sens aren't too shabby on the road.
Buuuut Rangers have managed to squeeze out two wins in a row, and Kaner is going to be starting tonight. That's a massive factor that will lift them. If not for Kane, I'd probably be advocating for a Sens win.
So let's go with the over. Based on the Rangers defensive metrics and the Sens offensive, Ottawa should be able to make a game of it.
Over 6.5 Goals incl OT/SO
Ontario: 1.86 Odds at Bet365 (Americans: We recommend http://www.bovada.lv
Canada: 1.86 Odds at Bet365 (Americans: We recommend http://www.bovada.lv
USA: -115 Odds at BetOnline.
Everyone Else: 1.86 Odds at Bet365 (Americans: We recommend http://www.bovada.lv
(Odds correct as of 2023/03/02 6:47:05 AM EST but are subject to change.)
Lightning vs Penguins:
Eh. These two just played the other day and I'm just not interested in backing anything involving them in this one.
Red Wings vs Kraken:
Red Wings come in off the back of a few poundings. The had been playing well post All Star break too. Kraken just ended their losing run and will be looking to build on it. They are quite the streaky team.
Bookies have this as a flip. I lean strongly on Seattle here, but the quantity of goals conceded lately is concerning. That's their real issue and it has been all season – goaltending can let them down at a moments notice.
Just feels too risky. Their offensive metrics are just not overwhelming enough at the moment to trust them to overcome the goals conceded.
Blackhawks vs Stars:
Kane gone is just a massive factor and I am not sure how they will play based on that. Dallas really aren't worth backing anway. What a disappointment they are at the moment.
Flames vs Leafs:
Not touching.
Canucks vs Wild:
Eh. Neither team really one I am rushing to back. If any it would have to be Wild in regulation. Not one I feel great about. Their goal metrics are hilarious compared to the Canucks as it is polar opposites across the board.
Kings vs Canadiens:
LA Kings return home after a battling road trip. The Habs come in having beat the Sharks 3-1. With the Quick trade, I really am concerned about how the Kings camp take that. Copley is a fine goalie and honestly the trade makes sense, but the way it all went down – tough to see how they respond. Or hell how their fans will respond. No bet, which is a shame as without that drama I'd be all over the Kings here.
Sharks vs Blues:
Oooof. No bet on this one. Bookies have Sharks as favourites. I think I can see that. They are creating the chances but just not getting the goals. By the time the game starts who knows how many trades will have been made involving the teams! I do kinda lean Sharks based on the metrics but not enough to back.
Follow @BetNHL
BetNHL.ca » Tonights Tips »