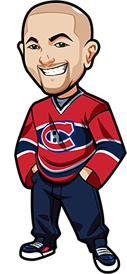 Written by Graeme on Saturday, March 30th, 2013
Follow @BetNHL
We started off Easter weekend with another fantastic winning night! We can't win every night but man we are on a roll right now. We went 2-1 last night with the NHL Tips.
We had the Lightning to win and man did Tampa make a meal of it – but with just a few seconds left on the clock they tied it up, went to overtime and the shootout and pulled out the victory.
We also had the Anaheim Ducks to beat the Chicago Blackhawks at a whopping 2.44 odds and the Ducks did just that as they completed a sweep of the Hawks this season. Our only loss was the Minnesota Wild vs the Dallas Stars as Minnesota battled well, but Dallas responded to the Friday night vocal home crowd and picked up a big win.
I'm doing a walk for the So Kids Can Talk charity in a few weeks. If any of you want to help out with your winnings and donate that'd be awesome. If not no worries, but thought I'd throw it out there. Earn yourself some good karma!
It's Saturday night and a TON of games – 11 games on the board tonight, and a lot of big ones. I've got a busy day today heading out for some Easter family adventures, then doing an Easter dinner. Not a huge fan of the family stuff, so I can't wait to come home, kick back and have a few Alexander Keiths while watching the Habs take on the Rangers. Should be a good night.
Let's rock it with tonights NHL Betting Tips for March 30th, 2013….
Penguins vs Islanders Betting Tips: Penguins -1.5
I don't want to discount the New York Islanders here – I really don't – I mean they picked up a big win over Philly, and are looking like a good battling team. But the Penguins are just on another level right now.
Iginla could debut today(although there's a good chance that won't happen), but the Penguins are a team full of confidence and momentum right now. While overconfidence can be a concern it usually isn't for a team like the Pittsburgh Penguins. They know how to handle it, they want to march on with this winning streak, and I just can't see the Islanders stopping them.
We're going to be giving the Penguins a handicap in this game – we're betting Penguins -1.5 so they need to win by at least two goals. You can bet this at Bet365 for 2.30 odds.
Grand Salami: Under 59.5 Goals
We're betting on this one that the Grand Salami will be Under 59.5 goals. That means if you total up all of the goals after the games are over today, there needs to be less than 59.5 goals.
This bet is available at 2.00 odds at Bet365.
There's 11 games on board, so we need about an average of 5.2 goals per game maximum. Tonight I like that. I see a lot of close and low-scoring games. All you need is a couple of 3 goal games and you're golden. I see a LOT of potential low-scoring games tonight. Hell, the books have the Over/Under line set at 5.0 for 7 of the 11 games today.
So bet the Grand Salami Under, and hope for a nice boring night of hockey!
Canucks vs Oilers Betting Tips: Team To Score First Wins Game = No
This is another bet at Bet365 who are offering a whopping 2.95 odds on it.
These two teams when they matchup always seem to mix it up. They always seem unable to protect a lead, and actually both times this season the team who scored first lost the game.
At 2.95 odds, this is one of those bets that isn't going to come in every night and make us rich. But those sort of odds offer some nice value and it's one I can't ignore. So bet this at 2.95 at Bet365.
Follow @BetNHL
BetNHL.ca » Tonights Tips » March 30th, 2013 NHL Betting Tips