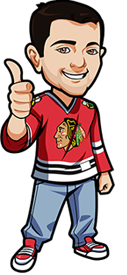 Written by Scott on Monday, March 30th, 2020
Follow @BetNHL
And still we have no hockey and no idea if we will get to see a playoffs of not. I have been watching some old games and its been a lot of fun to see players that have long retired. I watched a Leafs vs Kings game the other night. Gretzky and Gilmour. Robitaille and Clark. It was a blast watching those guys again and brought me back to when I was a youngster. Also got to watch an old Blue Jays game from back in 1992. As an 11 year old in Canada at the time, the Blue Jays won the World Series in 1992 and 1993 and the whole country was watching and rooting for them including myself. As fun as it has been to watch old sports I'm really missing on all the sports we could be watching if not for this Covid-19 pandemic. I hope you, your family and friends are doing ok through all of this.
I enjoyed writing about who was best at each position so far this season and I'll see if I can find something else to write about for the next couple days.
Graeme mentioned yesterday that we could bet on Madden NFL simulations and for today I'll give that a try. I love football and playing Madden. These are hard to predict so use these at your own risk. They are simulations so anything can happen. The rosters used are what the rosters looked like at the end of last season, 15 minute quarters in All-Madden mode.
You can find these bets at Bovada or Bodog. You can watch the action too by clicking on the more bets link on the Live Game in the NFL 2020 Sims page.
Madden Betting Tips
Steelers vs Chiefs – The Chiefs won the AFC West going 12-4 and won the Super Bowl. The Steelers went 8-8 and finished in 2nd in the AFC North. If the rosters are accurate as of the end of the season then I have to go with the Champs to win this game.
Chiefs – 3.5 at Bovada/Bodog
Lions vs Vikings – I'm a Lions fan and have been since Barry Sanders was there. They had a horrible season going 3-12-1 and finished in last place in the NFC North. The Vikings went 10-6 and finished in 2nd in the NFC North and played, and beat, the Lions twice during the regular season. The first game they played they won by 12 points the 2nd the won by 13 points. The Vikings won in the wild card round beating the Saints and lost in the Divisional round to the 49ers who went on to the Super Bowl.
Vikings -2.5 at Bovada/Bodog
Follow @BetNHL
BetNHL.ca » Tonights Tips »