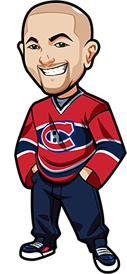 Written by Graeme on Thursday, March 30th, 2023
Follow @BetNHL
Getting to these a bit late today. One of those days where I'm just slammed with work from practiaclly the second I wake up. Always fun.
Of course, it's the usual busy Thursday slate. We're just a couple of weeks away from the playoffs and it's a tricky time to bet.
First you have teams who are struggling with motivation. Coaches experimenting, teams with no pressure trying new things etc.
Then you have teams who are showing that they just aren't playoff teams. I was saying that to Scott the other day – teams like the Penguins and Jets. They are playing in some crucial matchups, yet are not able to deliver. They just aren't teams we can count on when it comes to winning those key matchups.
Let's see what we can dig out of Thursdays slate – just the one play. It's going to be slim pickings down the stretch.
If you want a treble for tonight – from my over 2.5 goals system – Bruins, Panthers, Knights all over 2.5. Pays 1.84. I'll write a bit more about that system tomorrow as I'm finished my initial run-through of the analysis on it.
Bruins vs Blue Jackets:
Bruins coming off the Preds loss. Probably out for blood tonight. -2.5 would be the play. I don't think there is enough for me to advise it, but yeah they should probably give them a battering. Problem is Boston haven't covered that in their last 5 matchups. The Jackets defensive metrics are atrocious though.
Canadiens vs Panthers:
Speaking of teams who you can't count on, it's the Florida Panthers. Nothing for this one. The Habs odds are slightly tempting, but the metrics just don't back it up enough to make it a play.
Penguins vs Predators:
Easy pass.
Devils vs Rangers:
Rangers have found their glory again. Now they face a very inconsistent Devils side. This is a big game. This is one of those where I immediately like the Rangers after a glance at the metrics, then try and find reasons not to bet them.
Rangers are solid on the road. One of the most in-form teams in the NHL right now and playing with confidence.
Outscouring the Devils while conceding less. Goaltending been a factor based on the xGA although Devils GA/60 is on point with theirs. Both Rangers offense and defense performing well.
Devils – their offense SHOULD be performing better but with how the Rangers D has been performing, I'm going to go with them.
Rangers win incl OT/SO
Ontario: 2.15 Odds at Bet365 (Americans: We recommend http://www.bovada.lv
Canada: 2.15 Odds at Bet365 (Americans: We recommend http://www.bovada.lv
USA: 2.15 Odds at Bovada
Everyone Else: 2.15 Odds at Bet365 (Americans: We recommend http://www.bovada.lv
(Odds correct as of 2023/03/30 11:47:14 AM EST but are subject to change.)
Senators vs Flyers:
Tough one. Flyers playing well but Sens are a good little home team. 21-13-3. I actually slightly lean the Flyers here but not with Ottawas home performances can I back it.
Lightning vs Capitals:
Not betting anything involving Washington for the rest of the season. I do think there is value on the Capitals here looking at the data.
Red Wings vs Hurricanes:
Wings got the win over the Penguins. Now host the Canes. Carolina coming in with some mixed results. Not a team I feel confident backing at the moment.
Blackhawks vs Blues:
The Blues SHOULD outscore them I guess – that's the best I can say. Their offense is drastically overperforming to a ridiculous degree right now. Completely not sustainable. The Hawks shouldn't be as conceding as much as they are and that puts me off any team goal bets.
Oilers vs Kings:
Easy to pass on my current favourite team, the LA Kings, tonight. Going up against a tough Oilers side following their first loss in a wee while.
Kraken vs Ducks:
Nothing here. Ducks are terrible. But the Kraken should not be such ludicrous favourites.
Sharks vs Knights:
Weird one with the Sharks coming in on a W and the Knights with a loss. Play would have to be Knights in regulation. I can certainly see it but am concerned with the quantity of goals the Knights concede. It's probably n ot a bad play as the Sharks do concede more and have worse defensive metrics by a long shot.
Follow @BetNHL
BetNHL.ca » Tonights Tips »